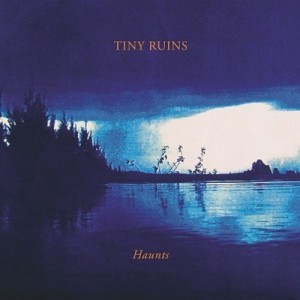 For many, Some Were Meant For Sea, the 2011 debut album by Tiny Ruins, arrived as a complete and perfect thing out of nowhere. Now, rather than ploughing on forwards, New Zealander Hollie Fullbrook is filling in the back story with the release of a new EP, Haunts. This is a spectral glance at the past of Tiny Ruins, with a selection of songs that predate her debut album, now re-recorded on a friend's eight-track tape machine and given fresh life.
Though these are tunes from years ago, some were demoed for and rejected from her debut album, so there is a definite stylistic link. Fullbrook's love of storytelling is evident, as are her assured musicianship and understated, beguiling vocal style. The EP is bookended by tracks, 'Holes In My Pockets' and 'Always You, Tiptoeing Through', which would sit perfectly happily on her first record. Most exciting, though, is her cover of 'Rolling Mill Blues', a 1929 track by Peg Leg Howell, which puts Fullbrook firmly in blues territory and shows off a different quality to her voice – earthy and raw, with previously unheard reserves of oomph. This bluesy haze is present in her own compositions too, particularly on the 'North Of Greytown', a track which haunts more than any other track on this aptly-named recording.
This is as much a musical prequel as a thing in its own right and, like all prequels, it has the tough task to achieve of matching up to the original. As her confident debut proved, though, Fullbrook is an artist who knows her own mind and you sense this EP would never have seen the light of day had she not known the material was every bit as strong as what went before. As the EP closes with the wonderful 'Always You, Tiptoeing Through', showing off Fullbrook's voice at it's absolute purest, the stage is set for Some Were Meant For Sea and what comes after. Excitingly, a new album is in the pipeline for later this year.