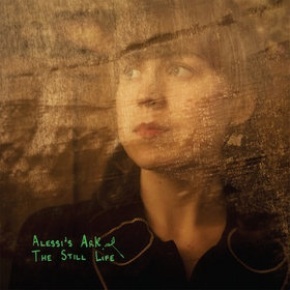 It would be over the top to suggest that, at the age of 22, it was make-or-break time for Alessi Laurent-Marke. But there is no denying that Alessi's Ark needed a third album of substance, something to erase words like 'promise' and 'potential' from people's minds and confirm her as in artist to be reckoned with. Unequivocally, this is that album.
If music were about atmosphere alone, Alessi's Ark would be top of the pops. Debut Notes From The Treehouse was a shimmering, dreamy effort which had atmosphere in spades but lacked some of the necessary heft – perhaps not entirely surprising given she was 18 at the time of its release. Four years and two albums down the line, Laurent-Marke has evolved almost beyond recognition. Whereas second album Time Travel showed confidence in its simplicity, in The Still Life Laurent-Marke demonstrates a will to experiment in form and content. Opener 'Tin Smithing' sets the tone, all awkward rhythms and thumb piano, before 'Veins Are Blue' develops into a languid singalong. In 'Sans Balance' she becomes a magnetic French chanteuse, while the brooding 'Afraid Of Everyone' packs a considerable punch. Four of the album's 13 tracks come in at under two minutes and there's barely an acoustic guitar in sight.
Lead single 'The Rain' is perhaps the album's stand-out track and clearly demonstrates the one thing that, above all else, ensures The Still Life stands above its predecessors: Laurent-Marke's growing vocal control. Previously her voice has been a divisive instrument, almost sounding at times like a parody of a folk performer with sporadic over-enunciation and a rogue Scandinavian twang. Now, though the she sounds natural and totally in control – and it's a beautiful thing. It still has an off-kilter style, but she's unafraid to show it off in its purest form on tracks like 'Those Waves' and 'Sans Balance' – and when the old Alessi does reappear, like in the enjoyably sentimental 'Whatever Makes You Happy', it feels like a stylistic choice. Perhaps producer Andy LeMaster, who oversaw recording in Athens, Georgia, can take credit for this – or perhaps it's simply a young artist growing up.
There are 101 clichés which seem impossible to avoid. Here are some of them: 'Alessi has done her growing-up in front of our eyes'; 'The Still Life is her most mature offering to date'; 'she sounds like an artist who is finding her voice'. They're all true. It's an album that shows the virtue of allowing an artist to develop and grow at her own pace. Laurent-Marke says the still life is "what we're all aiming for, the chapter in our lives that we find peace and understanding". On her third and easily most impressive album to date, she sounds like an artist very much at peace with herself.