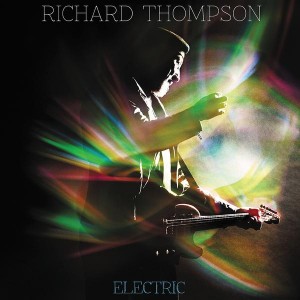 Richard Thompson's latest album does what it says on the tin. Electric sees him put the acoustic guitar which starred on his last several records to one side and plug in a Stratocaster. Recorded in Nashville in Buddy Miller's studio, Thompson reckons to have created and refined a new genre of folk-funk. We're not really sure if that exists or not, but Electric is undeniably groovy.
From the moment 'Stony Ground' opens the record, the album pulses with life. 'Straight And Narrow' and 'Good Things Happen to Bad People' continue the theme, but Electric is not some massive departure, nor the creation of some radical new sound. You can hear plenty of Nashville in there, with honky-tonk style country influences as apparent as anything else, most obviously in lyrics dominated by loves lost and troubled.
Nor does it all move at 100 miles per hour. Just because Thompson is plugged in, he still knows how to slow things down, even getting the acoustic guitar out of the case for the beautiful 'The Snow Goose' (which perhaps underutilises the presence of Alison Krauss on guest vocals), while the Celtic themes that have run through his whole career come to the fore on 'Saving The Good Stuff For You'.
When he's not singing those honky-tonk lyrics, there are angry observations on the modern world, talks of banks repossessing homes and some old-fashioned working-class-hero themes on 'Stuck On The Treadmill'. And that only speaks to the main thing to take away from this record – the sound of Thompson's energy. At 63, he seems as full of ideas as ever.