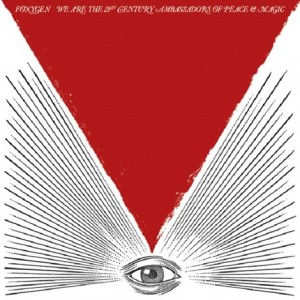 One of the bands hotly tipped to make 2013 a year to remember are Californian duo Foxygen. Their debut EP Take the Kids off Broadway featured prominently on many an end of year lists, and the anticipation for their first full album has been high.
The story behind Foxygen is a tale of endeavour. First forming back in 2005 Sam France and Jonathan Redo starting mixing and distributing their own EPs at the tender age of just 15. A total of 10 records were recorded in between high school and college, their obscure sound never really gaining much attention, until one night at a Richard Swift gig the duo handed the famed producer and newest member of The Shins a copy of their self made CDR of Take the Kids off Broadway. He immediately fell for the charms of their EP and the band where signed to Jagjaguwar records. Eight months later We Are the 21st Century Ambassadors of Peace & Magic was recorded.
Foxygen can be placed alongside bands such as Tame Impala, Allah La's and Temples as one of the many paisley-wearing Neu-Psych revivalists that where churned out by the load last year. Just like those bands, Foxygen bring something new to the table and know how to pay homage without burning out the nostalgia, with one foot in the door of the past and the other firmly set in the present day. The genre hustling duo beg, borrow and crossbreed a ripened intergalactic hybrid of sound and a time-honoured salute to the who's who of 60's rock and roll. There is a mix of everything in this record, hints of Bowie and T- Rex, traces of the Rolling Stones and the Velvet Underground; as well as some present day influences such as Aerial Pink and MGMT all nicely mingled in to the folds.
The album flows quite tightly in the early stages, kicking off with 'In the Darkness', a song with a dreamy haze of zorbed-out flux. The album's kaleidoscope of sound filters through easily during the first half before storming into their signature sound of quirky psych-pop and on into the destructive territory of the title track. What really stands out most on this record to me is France's fine vocals skills that duel between the lived-in scornful drawl of Lou Reed and the muscular tones of Mick Jagger and Marc Bolan. 'No Destruction', the album's strongest track, has the Velvet Underground's hew drenched all over it, with snippy unreserved lyrics and a folky John Cale-esque rift.
The band's vintage inspiration continues to streams through; stand-out song 'Oh Yeah's' groovy baseline sounds a like a recut version of T-Rex's 'Mambo Son' while 'On Blue Mountain' and 'Suggie' see the album return to Take The Kids' confused jives of fluxuated tempo and rambled song structure, all elevated by a chorus of blissful elation.
The album streams into 'San Francisco', whose lucid tempo is part nursery rhyme, part 70's funk, but the song demonstrates a sense of fragility through its sweet call and response vocals, flowery piano rift and tinkering of glockenspiels.
This album is a lot simpler then the debut EP, there is more focus on song writing and a clearer sound runs trough it. Each song stands strong on its own character, never clumsy but still with a sense of oddity. Foxygen find in Peace and Magic a structured element of original, uninhibited passion and effortless creativity, there is less chaos and dismantled jousts of sound but they still maintain the fun energy and swoon of Take the Kids. This is great album to kick off the year with and one to pass the time idly to.
Words: Jacinta Fox