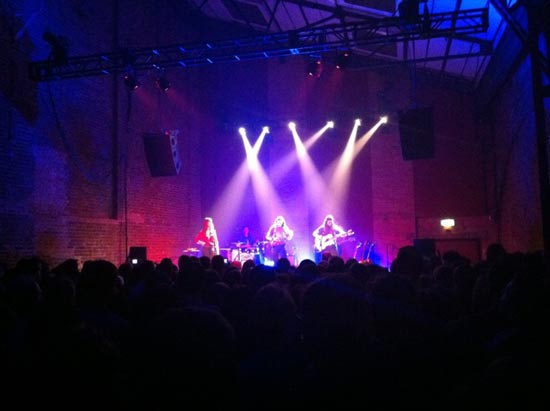 The Staves appeared quietly confident as they took to the stage on the second night of their headline tour, and who can blame them after touring with Bon Iver and that much-talked-about show at Wembley Arena last week.
The band, made up of sisters Emily, Jessica and Camilla Stavely-Taylor, were right to feel confident, too. They strummed and sang their way through the whole set and never once missed a note, or the opportunity to gently and quite endearingly take the piss out of each other on stage.
Kicking things off with 'The Motherlode' and 'Pay Us No Mind', the girls filled the venue, a cavernous railway tunnel, with their gorgeous and countrified harmonies. 'In The Long Run', a timeless kind of a tune and 'Facing West' followed and it was these songs, with middle sibling Jessica on guitar and Camilla the youngest on ukelele, that were perhaps the most captivating.
'Wisely and Slow' was another highlight, with the three sisters crowded around one microphone and singing largely A capella. In fact the more radio friendly single, 'Tongue Behind My Teeth' sounded slightly jarring against the stripped-back songs that made up most of the set.
'Eagle Song', a kind of psychedelic campfire song, saw oldest sister Emily pick up the squeezebox, "I don't know what it is and I can't play it! I can't play guitar either but whatever!" she said. This natural banter with the crowd gave the gig a familial feel and probably comes from the years the trio spent gigging in their local pub, the Horns back in Watford.
Most of the new album drifted by quickly so that by the time the last gorgeous notes of album title track 'Dead and Born and Grown' ("Don't ask us what it means!") were sounding, it was difficult to believe that a whole hour and a half had gone by. It wasn't that it was an uneventful gig ­ – just a really seamless and enjoyable one.
Emma Barlow
Set list:
The Motherlode
Pay Us No Mind
In the Long Run
Facing West
Tongue Behind My Teeth
Wiseley and Slow
Snow
Mexico
Eagle Song
Winter Trees 
Icarus
Dead and Born and Grown