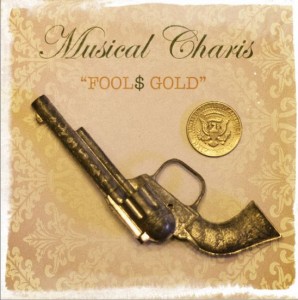 Sacramento's Musical Charis have created a little gem of a record with Fool$ Gold. Knowing how lovely the band are (not many bands open their own music school for their community!), I was willing for this album to be good. Luckily for me, as well as being musical do-gooders, they are also a pretty talented bunch. After the strange, if not charming roll-call introduction comes opening song, 'Fire on Ice'. Blending slick, powerful music with lush, tight vocals, the folk-fused indie sound that the band is known for has never sounded better and the driving beat of this song makes it a song you will go back to time and time again.
The album continues in fine fashion with 'Used To Be Cool'. Sweet, quirky and extremely pleasant, this song showcases the band's great vocals and is certain to put a smile on your face. With tunes like this, it is easy to see why Musical Charis have drawn comparisons with Fleetwood Mac and Jefferson Airplane.
The album takes a more sombre turn with 'The Gift', showing a new side to the usually light-hearted Musical Charis. The sincerity of the lyrics coupled with flashes of synth and beautiful harmonies make this one of the highlights of the album. The eccentricity returns in the wonderfully original 'Fortune Teller'. Flitting from blues to country with ease, 'Fortune Teller' affirms the fact that the band is made up of extremely versatile musicians. 'Catwalk' is another brilliant showcase for the bands knack of writing unusual and unique material.
Bringing the album to a euphoric end, 'Sunlight Stalker' is another highlight on the record. The thumping dance beat teamed with the ever-faultless vocals makes it a fitting finale. If you are looking for light-hearted, unique songs sung by versatile, compassionate musicians, then buy Fool$ Gold immediately. The only criticism I have for this record is that it ended too quickly!
Words: Carly Goodman