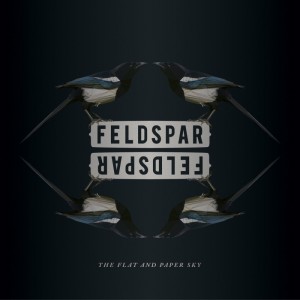 Soaring tunes, powerful vocals, lush instrumentation. If that sounds good to you, then so will Feldspar's debut EP. And it certainly should, because this is a truly exciting debut from a band who should go far. The London five-piece announce their talents boldly with five forceful tracks making up a short record that never dips in quality. From the moment Will Green uses the opening lines to declare "Those days I remember, nothing left to protect, you were too young for sadness and I was too ugly for sex" The Flat And Paper Sky Vol. 1 burns with intensity and a justified confidence.
Ben Lloyd Evans' beautiful piano licks and the fine strings explain the Nick Drake comparisons they have been earning but there is more going on here. Military style drumming gives 'Cressida' a darker edge immediately countered by the autumnul elegance of 'The Rest'.
Green took the name of the EP from a book of poetry by Edith Sitwell and drew inspiration from her themes of "writing and memory; light and darkness; the influence of the past on the present; the power of lust; the corruption of society" in his own writing. This manifests itself in lyrics that go beyond the usual topics of love and loss to add to the depth of Feldspar's sound. On the powerful 'Lady Danger' he sings "Let us dance Lady Danger, how could I presume to be anything more than your lover?"; on the closing 'Shadow' he promises "I will waste my final chance on you" as this EP draws to a close you wish didn't come so soon.