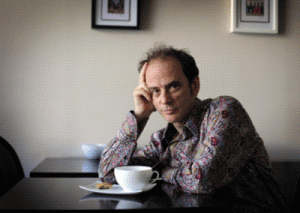 The title of Lach's show at this year's Edinburgh Fringe embodies his philosophy not just towards music but arts and culture in their broadest sense: Up the Anti! The founder of The Fort, an early home to the ragtag bunch of musicians kicked out of the Lower East Side's folk clubs for being too punk, Lach has been hugely influential in nurturing some of the greatest exports of the Antifolk scene, and this show makes it perfectly clear why.
Having lit two candles on the stage in at attempt to bring a modicum of respectability to a venue that looks and smells like a sewer, Lach is the type of musician who never actually starts a show and yet is performing all the time. His set is an hour of back-and-forth between storytelling and song, with some self-deprecating humour thrown in for good measure.
Much like Jeffrey Lewis's 'Don't Let the Record Label Take You Out to Lunch', Lach snarls at the hand that feeds him, telling stories of cancelled tours and quips about his label. Yet it is the poignant 'George at Coney' which best expresses the uneasy relationship between artist and business, as the young Beatle takes a trip out of town to reflect upon his life for one last time before the machine rounds him back up. At the far punkier end of the spectrum, 'Teenage Alcoholic' has an urgent simplicity, as does 'Staying Sober on North Beach' which is divinely interrupted by the spewing stream of consciousness poem 'The Day I Went Insane'.
With experience performing on the Fringe as a comedian, Lach may make uneasy viewing for an audience just wanting to listen to music in the dark, as they find themselves co-opted into eleven part harmonies that mercifully 'sound better out of tune'. Although not true improvisations, surprisingly prescient songs are also played in response to audience suggestions; an audience member's fight with her sibling inspires 'Letters to Theo' about the relationship between Vincent van Gogh and his own brother.
Ramshackle, charming and never taking himself too seriously, this iconic New Yorker is the true embodiment of the original spirit of the Fringe.
Lach: Up the Anti! runs as part of Edinburgh Fringe Festival at Alternative Fringe @ The Hive until 25 August.