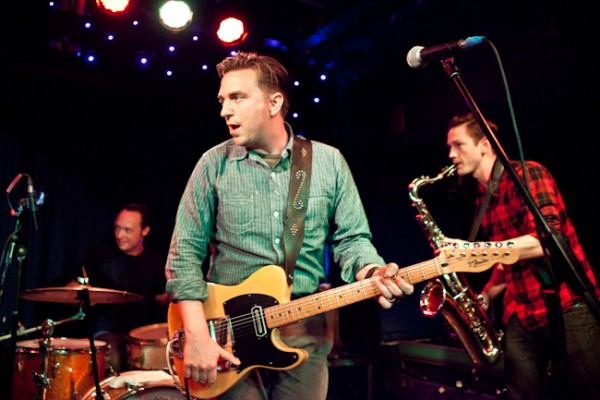 After shaking Londoner's awake following an infamous gig at the Wheelbarrow earlier this year, JD McPherson is set to play what is to be yet another awakening gig in Camden's very own Dingwalls. On the first of what feel's like a true summer's evening, we wondered up Camden Town and into the stiflingly hot underground room of Dingwalls. I should mention now that one of the best elements of the whole night was just the audience itself. The only way of describing it would be to imagine stepping into some sort of underground movement in the 50's: think big hair, lots of grease, some beautiful dresses and very quirky shirts. In fact, you'd be easily forgiven for mistaking his debut album 'Signs and Signifiers' as being a lost record of the early 1950s.
McPherson opens with the title track 'Signs and Signifiers', and the crowd are immediately enraptured but it's snake-bite drum beat. His set consisted mostly of tracks from the recent album, and within these there were certainly some clear winners for those onlookers. 'Your Love (All that I'm Missing)' was greeted by not only a cheer, but by an outbreak of dancing: couples all over the room busting out  some very appropriate moves indeed. No matter how incapable one may be of dancing (myself included), 'Scratching Circles', is bound to get anyone moving.
One thing I found particularly striking about his performance was his emphasis on the band behind him. It's undeniably rare to see a full jazz band these days, but McPherson has perfected the balance between appealing lyrics backed by his band, and parts of his songs consisting purely of wonderful 50's jazz. Dingwalls is filled with the exhilarating sound of crashing drums, rolling bass and hammering piano, the kind that makes your legs involuntary twitch. The band were together and fully on form, and it's clear to anyone that they could have sat there until the sun rose: perfectly in time and never ceasing to love it.
McPherson's 'Country Boy' was another highlight, with his vocal licks that made one fee l like they could just as easily be watching something like Little Richard instead, as well as the constant pounding and sliding of his bass guitar, the line "I'll be a country boy for the rest of my days" couldn't be better fitting. Of course, the night's real strength lies in the bands final (J.D's first single) song 'North Side Gal' . The sheer noise and excitement coming from the stage was astonishing, and the love of his music mutually shared between both the band and the audience was obvious. From here on out, the room somewhat exploded into dance, every single body and being forced themselves into the already heaving dance floor, and, well, danced the night away.
Despite this album being fully released in May this year, I'd say at least half the audience knew every single word to every single song McPherson played that night, an impressive feat. If you've yet to witness this guy live, no to mention on record, then make sure you do. McPherson is currently in the middle of a US and European tour with tickets still available, see here. And we leave you with J.D's first and very cool single: 'North Side Gal'. 21st Century Chuck Berry? Yes please.
Words: Ellie Rumbold