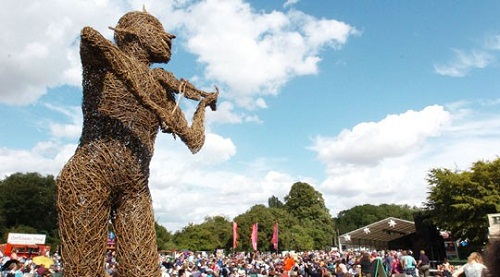 The Cambridge Folk Festival is officially the most chilled out festival we've ever been to, and certainly the only one where the entire crowd at the main stage sit down in the chairs they've brought themselves. With easy access, friendly and available staff and good facilities, it's the last word in family and disabled-friendly, and the perfect antidote to slogging for miles in the mud to get to the middle of a smelly crush whilst becoming more physically acquainted with absolute strangers than anyone would wish.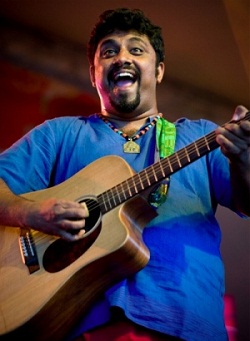 We therefore arrive in a relaxed fashion just in time for Raghu Dixit, whose recent performance on Later with Jools Holland propelled this multi-talented artist into the UK folk/world spotlight. Not that Dixit had heard of the show before being asked to perform on it, his initial response being, 'Who the hell is Jools Holland?' Layering traditional and contemporary Indian musical styles with Western folk and rock, Dixit and his band perform in brightly coloured sarongs and with smiles as big as the moon. Singing mainly in his native Kannada and Hindi, Dixit does occasionally delve into English, as on the chorus of 'No Man Will Ever Love You, Like I Do', which has been stuck in our lugholes ever since. It's a winsome affair, a straight-up love song that features some strummed folk guitar with beautiful Indian violin refrains over the top. Equally catchy is 'I'm in Mumbai and I'm Waiting for a Miracle' which tells the story of Dixit's long road to musical success. By the end of the set, the band are jumping up and down and beaming at the audience, who are grooving around like they might be in Calcutta rather than Cambridge. With titles translating as, 'The World is Beautiful', it would be difficult for even the most committed cynic not to be filled with just a little bit of joy.
With sunshine in our souls, we wander round on a mission to put food in our bellies.If there's one thing FFS likes almost as much as folk music, it's food. One veggie burger, a chocolate and nut crepe and several beers later, we finally make our way to The Den, a new addition last year intended to showcase emerging and breaking artists. Decked out like a Bedouin tent – or the living room of a particularly eccentric aunt – we find a nice patch of Turkish carpet to watch Chasing Owls, who play chilled and pleasant folk with some gorgeous male-female vocal harmonies. They're like a  more relaxed Admiral Fallow with a hint of Mumford, and their bassist almost gets in trouble by telling us his top festival toilet story.
After a pleasant detour via the Sky Lounge where we see that nice Zoe Ball giving an interview, it's back to the main stage for James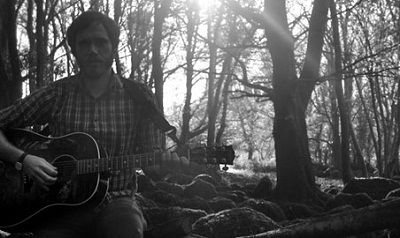 Vincent McMorrow, who we would describe as achingly beautiful if  it didn't mean being lampooned by The Stool Pigeon on 'Achingly Beautiful Watch'. It's a shame this phrase has been so criminally over-used because McMorrow's brand of sorrowful, thoughtful folk, makes our heart strings go 'twang' on more than one occasion. 'Red Dust', in particular, is broken glass coated in sugar, a delicate creature that features McMorrow quietly yelping from the bottom of his heart the wonderful lyrics, 'Sometimes my hands, they don't feel like my own/I need someone to love, I need someone to hold'. Suitably contemplative, we make our way back to our campsite via one or two more food stalls and bars, geared up for the lovely weekend ahead….