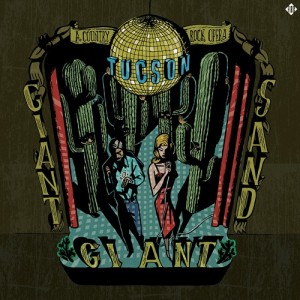 Tucson, the latest release from Howard Gelb-organized music collective Giant Sand (a group expanded here to become 'Giant' Giant Sand), is balanced, coherent, and aesthetically consistent. The aforementioned adjectives may not sound like a glowing review, but, in fact, those words are meant to convey a very positive message about a collective with a unified sound and surprisingly simple arrangements.
There are several great things about this album. The lyrics are brilliant. One example from 'Love Comes Over You' is "Find me a dream lasts forever / Find me some truth I can feel / I've been thinking maybe never / Cause I've been here just standing still". Or, for anyone who has ever been held up at border control, 'Detained' provides the mantra, "One little detail / detained at the border". Even on 'Recovery Mission'—a song that could have easily gone awry due to its astral theme—offers thought-provoking, tasteful words.
The overall aesthetic feels very much like the deserts of Arizona. Many of the vocals are recorded to sound warm and close, and then juxtaposed to sparse, echoing instrumentation. Many of the tracks truly have a sense that one is hearing a voice in a barren wilderness.
Brushes-on-snare drumming, upper-register string strumming, and an occasional trumpet make many songs feel as though they are uniquely from Tucson's geographical region—blending latin influences naturally. Some of the work is akin to Ry Cooder's Chávez Ravine, one of this author's favorite albums. 'Carinito' the only song sung in Spanish is a high point.
As an uninitiated listener of Giant Sand, my interest has been piqued. I am keen to dig into their substantial catalogue that includes guest work from such notables as M. Ward and Neko Case. There are surely several gems to be found.
Words: Paul Kellner