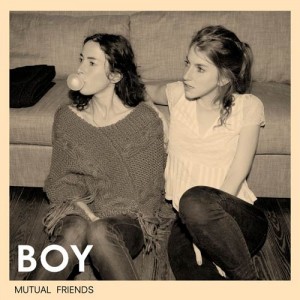 Mutual Friends, by pop-songstress duo Boy, is smooth and sweet; 'This Is The Beginning', 'July' and 'Army' are warm and pleasant, worthy of a true boyband ballad, but their sound gathers life and force with 'Little Numbers', which has much more bounce and attitude, rollicking along.
At various points they remind me of KT Tunstall, Regina Spektor, SOKO and Suzanne Vega, with moments of fresh directness, though lyrics veer into clichés and over-obviousness: "icicles on a fence – that reminds me of my heart", we are told in 'Railway', just in case we weren't following the pathetic fallacy.
Overall they're best when they keep the pace up, as I found the ballads a bit bland, but 'Boris' shows they can write very strongly, in a direct, creepy conversation with the somewhat rapey Boris ("He said 'Baby, come up to the office, you sang at my party, I owe you some money. You owe me your lips, I'm gonna give tips, and I heard your boyfriend is out of town.'"). Overall, Mutual Friends is a tender, positive slice of pretty pop, but at this point Boy show some nerve.
Words: Becky Varley–Winter