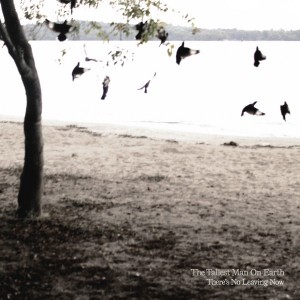 After a couple of low-key releases, TTMOE (less ludicrously known as Kristian Matsson) broke cover with 2010's glorious The Wild Hunt. We're not talking Laura Marling style mass adoration here, but genuine word of mouth movement and a growing 'hot ticket' vibe to his intimate shows.
There is, then, significant interest in There's No Leaving Now – Matsson's third album and the first to move away from the 'one guy and his guitar' mould. Needless to say we're not exactly talking Bjork's Biophilia or a spot of free jazz here, but it is still a reasonably bold move for an artist whose best work is defined by the stark beauty of his raw voice and crisp acoustic backing.
The additions are hardly obtrusive – a little more electric guitar, a touch of lap-steel, a previously withheld nod to bass and percussion – and they are entirely fitting with the sound. 'Revelation Blues' is the best example, using gentle brush-drumming to set the beat and building around Matsson's central performance with sepia-tinged reverb and a blink-and-you-miss-it bit of flute work.
'To Just Grow Away' also boasts a fuller backing, the syncopated strumming and strident delivery coming across like the schmoozier cousin of his earlier songs. Elsewhere, 'Bright Lanterns' takes a trip into country-tinged territory.
If there's a problem with the album, it's probably that the writing falls just short of its revelatory predecessor.
The Wild Hunt contained at least four jaw-droppingly brilliant tracks, at once simple of structure but devastatingly delivered. Here, you find yourself occasionally standing aside and admiring Matsson's distinctive voice rather than being hopelessly drawn in by it. 'Little Brother' has more than a little of the old magic and both 'Wind and Walls' and '1904' make a fist of recalling live favourite 'King of Spain', but elsewhere things are good rather than great.
Words: Rory Dollard