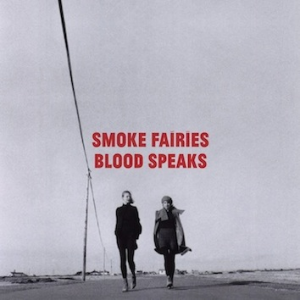 If there's been one constant in the Smoke Fairies' story to date, it has been their refusal to stand still. From leaving their Sussex roots to spend time living in America and Canada before returning to London, to their frantic rate of production that has seen them produce two other album-length records besides 2010's official debut Through Low Light And Trees and now follow-up Blood Speaks, movement and progress have gone together.
And with this second album they've moved on again. Low Light's pastoral themes have been replaced by urban tones and a punchier sound, the recording process switched from deepest, darkest Cornwall to Ladbroke Grove. The girls once sang that London churned as though it wanted them dead, and while they still stop short of calling it a warm, comfortable home, you get the sense they have now come to terms with the city, if only grudgingly. "On a day like this I fight through the city I live in/I hope there's something left to give to you" they sing on 'Hideaway'.
The girls recently told us this was their 'joyful' album, but we're taking it in baby steps as lyrics like 'Something dies when you fall in love' on 'Take Me Down When You Go' will attest. Still, there is something playful about the record, from the duelling harmonies of the slow, brooding title track to the delicate rhythms of 'Hideaway'.
And it is a clear desire to broaden their musical pallette that is most apparent here. Where their debt to traditional forms of folk and blues was previously so clear, here they branch out into fresh approaches and styles, while their immaculate guitar sound keeps everything firmly stamped with the Smoke Fairies brand. It comes at a cost, of course, with the album having less coherence than its etheral predecessor, but this marks the next step of the Smoke Fairies' journey as a band.