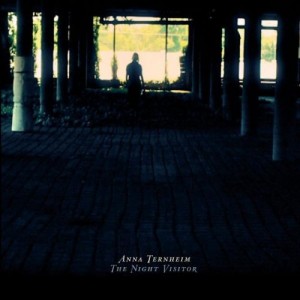 In recent years Sweden has proved itself the prime producer of US-style cultural exports. In film and television, the likes of The Girl with the Dragon Tattoo and Wallander have caught the imagination of viewers in the UK, appearing at once familiar yet uniquely Swedish. They have a chilly quality that somehow lends weight to the legend that the country has the highest suicide rate in Europe, a statistic at odds with its converse reputation for having the happiest and most economically prosperous population in the West. With The Night Visitor, Anna Ternheim uses music quite overtly indebted to the influence of American folk & country music to offer an insight into the lovelier side of her home country. This album is resolutely not chilly.
Already a major star in Sweden, Ternheim has won Grammys there for best album and best female vocalist. If there's any justice, this album, her fifth, should bring her some wider recognition in the rest of the world.
It starts in an upbeat fashion: 'Solitary Move' is a propulsive, atmospheric slice of folk-rock that showcases Ternheim's plaintive vocals and ear for melody. However, in its fussy production and straightforwardness, it wrong-foots the listener into expecting an album of pleasant but unspectacular radio-friendly pop music. It's not until the gorgeous duet, 'The Longer the Waiting (The Sweeter the Kiss)', a country-inflected ballad so lovely it feels instantly like a standard, that she lays her cards out on the table. This is as fine an example of American to ever be put down on record. It deserves to be preserved in aspic so that future generations can study it as a perfect example of song-writing and performance.
The Night Visitor is packed with such gems and, like all acoustically dominated records, it is at its best when the production is at its most stripped down. 'God Don't Know', perhaps the standout track of the whole album, barrels along on little more than Travis-picked guitars, a cute melody and Terheim's witty lyrics. As a ruefully infatuated take on a faulty relationship, it's easily up there with the likes of Dylan's 'Don't Think Twice It's Alright'.
In its amiable way, Ternheim has captured the real spirit of American folk, without losing any of her own personal idiosyncrasies. Her complete mastery of the idiom is captured in the final track, 'Dearest Dear', an ethereal cover of the popular folk song. It's the final piece of evidence that suggests that she might just be the authentic, inauthentic American folk singer of the current generation.
Words: James Robinson