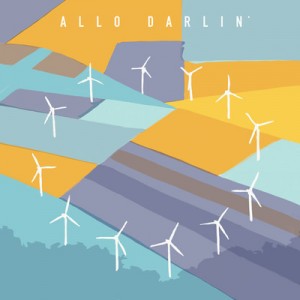 If Belle & Sebastian are indeed, as they are often described, the "acceptable face of twee", then bands like Allo Darlin' are very much the unacceptable depth of the iceberg below the water – intimidating in their lightness, in their very unintimidating-ness, in their mass of crystalline whiteness. On their much anticipated new album Europe, you cannot always hear a ukulele but you always know there is probably one in the room whilst the guitar and the drums and the vocals are being recorded.
Yet with Europe, Allo Darlin' have decided to get serious. True, the substance of the work is still rooted in fun diversion, but it does not put a ceiling on their ambition – Europe is infused with ideas that move beyond the twee aesthetic whilst happily spinning round it, in close orbit.
This is an album about place, about the feeling of knowing there's somewhere else and being able to get there. The feeling of being young. From songs that look to the stars – 'Capricornia', 'Some People Say' – to songs that launch you towards them – 'Neil Armstrong' – and those other lights, that guide us towards the continent and the feeling of being in motion – 'Europe' – the emotion that being elsewhere is just a different kind of knowing that there's somewhere else.
Dip into this album at any point on any track and I promise the lyric will be brilliant. Two minutes into 'Some People Say': "I wonder where you are / And if you're travelling how far" – distance posed with an intimately close rhyme. A minute and a half into 'Wonderland': "February rain washes all our days away / And you feel tired" – the calendar and the weather conspire, the rain is long and beautiful, the tiredness short and blunt.
This is an album that does clever without being complex; light without being trivial; heavy without weighing you down. And it does fun, seriously.
Words: Tom Moyser