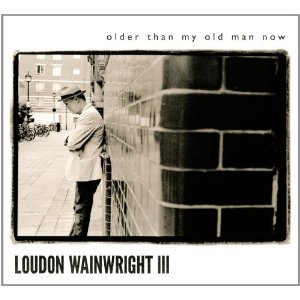 Loudon Wainwright's 22nd album 'Older Than My Old Man Now' is another addition to his extensive folk-rock autobiography. At 65 some would say he's not old, just older, but he's at the point of feeling it. After the quite recent death of his former wife Kate McGarrigle, Loudon's current state of mind is evident. The album is morbid at times, but also sober, honest and straightforward in facing his own mortality.
Loudon tends to use wit as a means of expressing the darker thoughts – for example in 'Double Lifetime', he speaks of needing more time in life to learn how to fulfil, stating 'practice makes perfect, I'm about half done'. Also 'Somebody Else' which displays how older folks become accustomed to the idea of death when it begins to creep in around them, but using lyrics such as 'he's off the hook, and you're up next, Jim' makes for a lighter version of the darker subject.
If you can guarantee anything, it's that Loudon will make you laugh, cry and think within the space of a few songs. One which may make you do all three is 'I Remember Sex' featuring Dame Edna Everage. A lovely surprise addition, in typical Wainwright style. This album is a story from someone who's gone through difficult times, told in a unique and emotional, macabre yet inspiring way. To feel melancholy, encouraged, light-hearted, nostalgic, amused and satisfied all after 60 minutes of music is a feat that Loudon has no problem in enabling for his audience. Another great musical story to add to his collection; let's hope he doesn't mind sharing a few more.
Words: Alaina Henderson