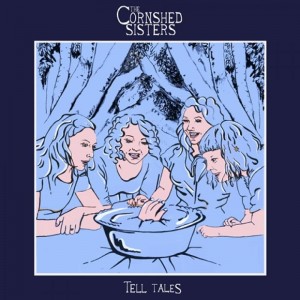 How do you like your harmonies? Rich and plentiful? Well this one could be for you.
Despite a name which alludes to the deep south of America, the Cornshed Sisters are actually from the north east of England. Indeed, north-east royalty can be found here in the shape of former Kenickie star Marie Du Santiago. Well, any family that produced Lauren Laverne is a royal one in FFS's book. It seems Marie has abandoned the Punka stance of "lo-fi songs are great" though, because this is all about harmonies and lush sounds.
On the Memphis Industries website, you'll learn about their love of guitar pop, folk tales, protest songs, country music, piano ballads and gospel singing. Surely missing from that list though is musical theatre, because for all their country-folk influences, drama is what comes through most. Lyrically, they live on the line between inspired and awkward, but even when some of the clunkier moments stand out for the wrong reasons, they can't be faulted for ambition. In 'Dance At My Wedding', they pull off a lyric about gravy, which is an astonishing feat.
The Cornshed Sisters are storytellers, and when it works well it works very well. 'Dresden', one of the braver love songs you'll hear, has mesmerising power, while closer 'Sail To Me' is a delicate joy. It would take an open-minded person indeed though to suggest 'Pies For The Fair' – cannibalism at a village fete – wasn't something of a misstep. Perhaps the highlight, though, is 'If You Were Mine', which is a pure show tune – in fact it's a conditional love song, used by composers to insert a big love theme when it's dramatically too early in the show to have one ('If I Loved You' from Carousel, 'People Will Say We're In Love' from Oklahoma!). Rodgers and Hammerstein – this is the level they're working at here. Whatever it is, it's bloody lovely, and it shows what the Cornshed Sisters do best – offbeat, narrative loveliness.