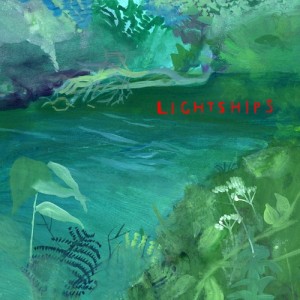 I spoke recently of my love for indie-pop, well it seems as though Gerard Love was listening because he's bestowed another gem of guitar-driven pop upon the world. Lightships' maiden offering, Electric Cables, is a beautiful surprise, one that sneaks up from behind my sixteen-year-old self and leaps into my arms. Like an old friend, whose eye has been drawn magnetically to yours across a crowded room and, as the distance between you melts away, your memory smashes at your skull, like a candy floss hammer.
I was always a sucker for Teenage Fanclub, with their melodies so stunning that had Britain's Next Top Model existed during the mid-nineties then the faces of each band member would have been affixed upon the chalice endowed upon the competition's winner. Electric Cables is filled with the same gorgeous stuff that made Teenage Fanclub such addictive listening. The question dancing inside readers' minds though might be, 'Can there be enough distance between Teenage Fanclub and Lightships for Electric Cables to stand on its own'? The answer is an emphatic yes.
It possesses the same dreaminess found in the music of Teenage Fanclub but there's the sense that it's aged, matured and as such feels as though it's drawn from a slightly earlier time. Throughout listening I'm reminded of the Beatles, it's the subtle, tripped out effects that creep out of the speakers that does so. Strangely enough there's also the same sense of innocent joy that made dance act The Avalanches music so wonderfully supine, something that's most evident on the excellent 'Photosynthesis'.
Picking out standout tracks seems a slight task. 'The Warmth of the Sun', 'Every Blossom' and the aforementioned 'Photosynthesis' are all excellent tracks but the real strength of the album is it's cogent statement of melodic intent; it's a sense that you're gliding through life in an opaque, bubblegum, bubble. If blankets were made of marshmallows then this would be the album to wrap yourself in.
With Real Estate recently causing frothy ripples to land on indie-pop's beach fossils, now seems the perfect time for an album such as Electric Cables to be released.
Words: Damien Girling