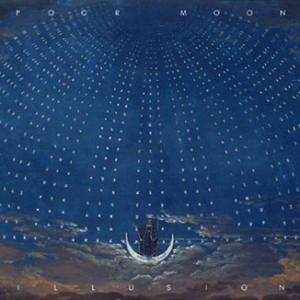 The constituent members of Fleet Foxes come from such a rich heritage of previous bands, solo efforts and general musical immersion that it seems a little disingenuous to call Poor Moon a side project, not least because two of the members have nothing to do with Fleet Foxes at all. That said, when your fanbase will primarily come from another groups's work, it can be a hard thing to ignore the ties, and Illusion, the band's debut release, suffers a little for that comparison.
Seattle's breakout pastoral chamber-folk group (and that's still an odd sentence to type) have always been lauded for their singular sound, an ability to communicate their "Fleet Foxes-ness", no matter what they're doing – Poor Moon, it seems, have not had that power transferred, because at the heart of Illusion lies an odd instability, a sense of indecision. The move from the stripped down, fog-of-reverb folk of the title track through to the sun-dappled indie-pop of 'People In Her Mind', xylophones and all, is quite a stretch. It could be a new group feeling their way through, or a side project merely stretching their legs, but within the context of an EP that only lasts a quarter of an hour, those sudden segues feel a little too jumpy.
That said, judged out of context, Poor Moon have created five very enjoyable songs. 'Anyplace' borrows some harmony ideas from the band's vulpine progenitors and marries it to a soft, percussive soul sway to wonderfully relaxing effect, whilst the capella refrain of closer 'Widows' lifts what could be a rather wet folk singalong into loftier, choral territory. The standout, however, is first single 'People In Her Mind, which remains one of the best songs of the year so far – a skipping mix of Shins-indebted indie and '60s lounge music helped along by Christian Wargo's delicate croon. Each song is at least good, but they just don't seem to meld together quite yet.
In the end, it's probably the fact that Poor Moon do come from a lineage of musical excellence that's hurt them most. If these tracks had showed up on some corner of Soundcloud, we could well be lauding a new band for doing something truly exciting. As it is, Illusion is an EP that needn't exist as such a formal object – a precursor to a hopefully upcoming album that could deliver so much more.