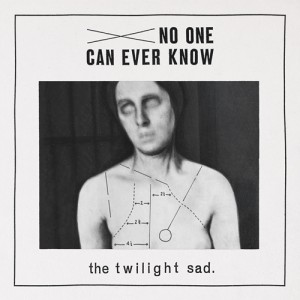 There has never been a worse time for an '80s synth-pop album to come out than now. Even the '80s. As Simon Reynolds' derisive term (and book) "Retromania" gets bandied about more and more, so too does the popularity of the practice – an unsettling prophecy that edges closer to becoming not only widely true, but perhaps ubiquitous. Rock bands are plagiarising the '90s, pop acts lazily lift from the chemically-enhanced dance scene of the same decade, and any artist with tendencies towards the more electronic side of things, well they copy the '80s – keytars and all.
Which is why it's a little odd that The Twilight Sad, a band who have traditionally attempted to make so much guitar noise that ears worldwide have desperately pleaded to swap senses with any other body part that would synaptically listen (but couldn't, because the guitar noise had destroyed their hosts' central nervous systems), would decide to release No One Can Ever Know; a record that seems to amount to their own, customarily downbeat, tribute to the more recognisable acts of that inorganic decade.
That said, the Scottish three-piece's third album isn't so much a reinvention as an evolution – albeit one that may have baffled Darwin. The imperious, lengthy tracks, impenetrable gloom and pervasive sense of drama remain, just sliced open by something entirely new – the sound of analogue synths. It's not immediately obvious what line of thought could have brought the band to this conclusion, but that thought has clearly been had.
Opener 'Alphabet' is the perfect introduction, a seasick sway of bassy electronics backed by sparse percussion and appended by an airy line of keys hanging over James Graham's characteristic howls of emotional discontent. It's a formula that, with the substitution of synths for squalling string feedback, wouldn't have seemed out of place on previous albums and, consequently, that very change becomes the central point of interest. The cold, perfect tunefulness of the synths provides a cutting clarity to the track – and the album – a fluorescent beam of light that shines through the fog of the band's sound and paradoxically reveals far more of their true darkness than sheer noise ever did.
This use of sounds that might previously have been associated with a more vapid genre throws the subject matter into relief – after all, hearing Graham's repeated, half-screamed intonations of 'I still watch you' against a backing that in other circumstances could be distinctly stadium-oriented makes for uneasy, compelling listening. They re-use those sounds in other ways too – 'Another Bed's slight pitch bends make fist-pumping anthemics sound distinctly woozy and the electronic pulse of 'Sick', coupled with a gently circular guitar pattern, recall another band's electronic reinvention, in the form of Kid A.
In fact, despite the more immediate sonic touchstones, it is Kid A's mountainous influence that looms largest over much of No One Can Ever Know. Radiohead's invocation of millennial doom was similarly unexpected, similarly electronic and, similarly, their darkest work to date. 'Sick', and to a lesser extent 'Not Sleeping', seem self-conscious in their adoption of that particular sound – a purposeful reminiscence designed not only to capitalise on the source's brilliance, but to bring to mind the same associations.
What results is that No One Can Ever Know is an album that pays homage to The Twilight Sad's history as individuals and a band. In its adoption of '80s sonics it highlights its own subject matter, in its calling upon Kid A it links its existence to a significant part of recent musical history, and in its twisting of the band's own established style it signals both a growth and a stylistic link. Yet, despite every chain's potential to hold them back against what they've linked themselves to, the band have instead strengthened their proposition, making a record that invokes much but never feels stolid. This album not only improves on much of what the band has stood for, but provides a potentially significant marker for how to combat the stupefying effects of Reynolds' Retromania – in taking on the tropes of the past, The Twilight Sad have still come out with an album that sounds importantly original.