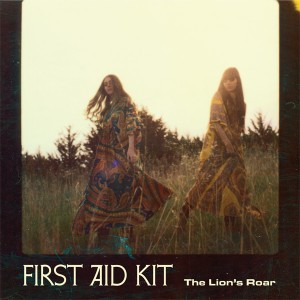 "There's nothing new under the sun / All that will happen has already begun"
Sometimes you don't need to say a lot to get a point across. In this simple couplet from the dark, tidal 'Dance To Another Tune', First Aid Kit acknowledge the entire problem of their second album. On the other hand, just as the song it comes from suddenly breaks into a sun-dappled reverie, that very acknowledgement reveals the album's greatest strength by the same token.
But perhaps that shouldn't be a surprise; First Aid Kit have always been a paradoxical band. As a folk act, stereotypes immediately flash up – pastoral Britain or Midwestern America, obscure studio locations, analogue recordings. But then you realise that these are two sisters from a Stockholm suburb who became famous through what was essentially a viral campaign things don't seem to add up. The solution then, is that the Söderberg sisters don't struggle to make them add up, they just make the troublesome equation seem irrelevant by being supremely talented mimics.
After a first album undertaken more or less by themselves, Johanna and Klara recruited a band and set about making an album that sounds like every single one of their heroes – and they're telling their audience throughout. Ranging from the overt, in 'Emmylou's name checking of the couples of folk's past ("June" and "Johnny" for example), to the more oblique, with the tragically upbeat Mitchell-isms of 'Blue', and the frankly speculative (it's perhaps unlikely that they're bemoaning the absence of new Antipodean throwback rock albums as they sing "Wolf mother, where you been?"), this is an album packed with nods, winks and homage to those they borrow from as they go along.
Frankly, this would be a problem if it wasn't made clear that this was the point, but as you take in the sheer flair of the blustering title track or the sparse, magnificent echoes of 'New Years Eve', it doesn't matter anymore. In fact, it's ultimately jarring to hear "Stockholm's cold but I've been told I was born to endure this kind of weather", because it becomes so easy to sink into the warm fantasy world the band have created. As if as testament to their validity, some recognisable folk heroes turn up to endorse the band with their talents on the final track as The Felice Brothers and Conor Oberst lend their weight to 'King of the World'.
Ultimately, that idea that "there's nothing new under the sun" is First Aid Kit's greatest boon on The Lion's Roar. Once you accept that what you're listening to is a knowing pastiche of all the acts the band have grown up with, it becomes much easier to accept that what they're doing is, in many ways, just as good. The songs are wonderful, the execution perfect and, most importantly, the act seamless – this sounds just like a classic country-folk album and, when you think about it, that more or less makes it one.