Amongst the potted palms of the mobile lobby of Gruff Rhys's Hotel Shampoo, support band Y Niwl emit wave after wave of their own brand of crystalline surf rock. The Peter Gunn-esque 'Pedwar' opens the show, followed by the standout Chwech, a dense-sounding tsunami of a song punctuated by a haunting chord progression from lead guitarist Alan Evans. Undegpump and Undegpedwar follow – prime examples of what they describe as their 'deformed, cold water surf music' – building on undulating, non-stop crescendo rhythms reminiscent of Dick Dale and Duane Eddy.
For the past year or so Y Niwl have been moonlighting as Gruff Rhys' backing band, which is not surprising when you recall that Alan McGee signed the Super Furry Animals to Creation on the basis that their harmonies reminded him of the Beach Boys. Gruff enters stage right dressed in a natty brown suit, a sartorial step up from the knitted combos sported at gigs earlier this year. One senses that an effort has been made.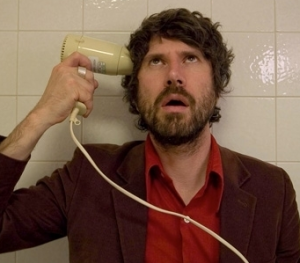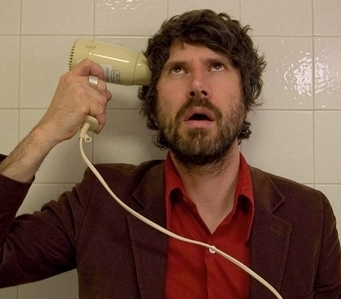 He takes a seat at the Hotel Shampoo reception desk, a table displaying an array of noise-making/sound-capturing instruments, and chooses what appear to be a pair of Wii drumsticks, with which he beats out the rhythm on 'Gwn Mi Wn', the rousing opener. Were it not for the absence of Welsh speakers in the audience, it's clear he'd have had them a-singing and a-clapping from the off.
It is noticeable that he has to work harder vocally during 'Candylion' and 'Court of King Arthur', as, in the absence of his vocal partner Lisa Jen and their gorgeous two-part harmonies, he's forced to use the full range and volume of his normally understated voice. Endearingly, he takes to ending most songs in the set with a 'thankuverymuch' like a shy Welsh Elvis.
The first placard of the evening, proclaiming 'The terror of cosmic loneliness,' precedes the brash and grating 'House With No Mirrors', the only duff track of the night. But he recovers momentum with 'Whale Trail' (the soundtrack to an iPhone game) and 'Pwdin Wy', a two-parted tale of hopeful romantic love, which descends into a sorry tale of prescription drugs co-dependency, from which point there can be no happy ending.
We then enter a purple patch – the gorgeous folk melancholia of Lonesome Words followed by the straight-up romanticism of If We Were Words We Would Rhyme and Vitamin K. The Mariachi-infused Sensations in the Dark and a freestyle keyboard version of 'Honey All Over' follows, accompanied by more placards (Whoa! Apeshit! Tax the Rich!). 'Ni Yw Y Byd' is another crowd-pleaser, with a sequence of vocal-testing upward shifts in key, followed by some mean pipe playing.
A glorious version of 'Gyrru Gyrru' benefits from a Super Furry stylee hyper drive ending. Then, on the day the House of Lords green lighted its demise, Gruff introduces 'Cycle of Violence' as a 'requiem for the NHS'. He saves up the classic 'Shark Ridden Waters' until the end of the set, complete with Cyrkle circa '67 samples, its West Coast, blissed-out brilliance confirming Alan McGee's insightful comparison.
When he returns for an encore, Gruff dons a yellow emergency safety vest and settles himself in an aeroplane seat for his intricately told epic 'Skylon' (at over 15 minutes long in the telling, you'd need to be comfy). By the time the hypnotic 3 chord journey into the world of a bomb disposal expert with a moral dilemma ends, the crowd are fully inducted into Gruff's parallel universe and none of us really want to leave just yet.
Words: Louise Richards