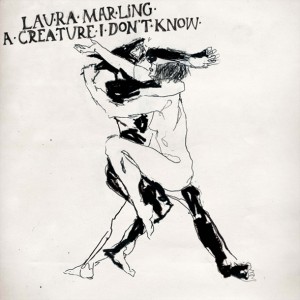 If Alas I Cannot Swim was Marling vs Fink and I Speak Because I Can was Marling vs Mumford, on A Creature I Don't Know Laura strikes out on her own. This album doesn't look to its contemporaries for influence – we hear flickers of Joni Mitchell, Bob Dylan or Leonard Cohen, but mostly just a voice that is very much her own.
In opening track 'The Muse', each line is echoed with a jazzy cacophony and Laura's sultry vocals wouldn't be out of place in a smoky piano bar. And nor would the softly pulsating brass of 'I Was Just a Card'. Jazz and the fuzz guitar are new elements for Marling. A Creature I Don't Know feels musically unfettered.
Lyrically it's another story. Occasionally there is a line that feels candid: "Punish them all because they speak too much" from 'Salinas' or "I hope your mother knows where it is you have been – she'd be so proud" from 'My Friends'. But for the most part Marling remains steadfastly oblique. The central character in A Creature I Don't Know is 'The Beast', a dark figure that becomes a representation of the shadows within over the course of the record.
In 'Don't Ask Me Why' Marling delivers the line that confirms what her fans always hoped: "Those of us who are lost and low, I know how you feel. I know it's not right but it's real". And at this point in the song the music and vocals, until now tightly-coiled, find relief in resolution and resignation.
A Creature I Don't Know is much heavier than anything Marling has done before, and more disconcerting, but I get the feeling that it's a better reflection of the artist. We've previously watched Marling lose her meekness and emerge bold and unblinking. Here our narrator ditches benevolence and we get to hear genuine anger, rising to a climax with the vicious 'The Beast' ("I suggest you be grateful there's no blood on my hands") and finally resolving with 'All My Rage' ("I leave my rage to the sea and the sun"). A fascinating and affecting tour de force.
Words: Lynn Roberts
A Creature I Don't Know is out today