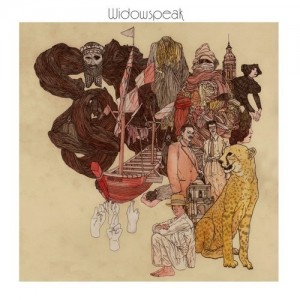 Widowspeak may have a death-laden name, but the opening track on their eponymous debut, 'Puritan', is one of the sunniest songs on the album, with a surfing edge and casually sweet vocals, so that the grungy guitar of 'Harsh Realm' feels like stepping into a darkened room, with someone slumped on their back, staring at the ceiling, in a haze of apathetic infatuation. 'I always think about you', singer Molly Hamilton breathes, the words barely formed, so it sounds like she's half-asleep or that her voice is echoing up from the bottom of a well. This fuzziness can be exasperating, if only because their lyrics are rather good, but it's part of the swirling, dreaming effect Widowspeak create, by turns innocent and jaded. This sleepiness is counteracted by what I think of as Cowboy Guitar, so that their music is poised somewhere between the soupy insomnia of Grouper and the soundtrack of Pulp Fiction. If you like the idea of mingling country and grunge, this band is for you.
Yes, at times they sound almost too self-consciously cool, but it's not all laid back; 'Nightcrawlers' is a song to dance to, culminating in a psychedelic freak-out. 'In the Pines' is like meeting a slightly creepy tree nymph ("We live where the sun never shines/In the pines, babe, in the pines"). 'Limbs' is genuinely unsettling, so listless as to reach dreary nihilism, drowning in inertia, but this is followed by my favourite song on the album, 'Gun Shy', which is beautiful, on instant repeat. There's a dark drama in it ("What is it you're running from?" "You're staring down the barrel of a gun") that mingles perfectly with the lightness of the vocals. 'Fir Coat' is upbeat, with a cleaner guitar sound, then 'Ghost Boy' swings back into eerie territory ("He's gone cold, I couldn't forgive him"), building up from stillness to a swell of sound. Widowspeak's seemingly effortless nonchalance at first disguises how thoughtful and layered their music is, with an underlying intensity, a rising tide.
Words by Becky Varley–Winter
"Gun Shy" by Widowspeak by forcefieldpr
Widowspeak @ 285 Kent Ave. 2.18.2011 from Jessica Amaya on Vimeo.