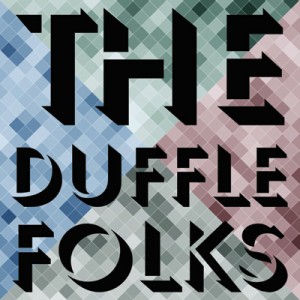 Last year The Dufflefolks opened The Greenman Festival after winning 2010's Greenpoll; reaching the final as one of the fans' choices before a judge's panel comprising, among others, Bella Union head Simon Raymonde, Mojo editor Phil Alexander, and Stephen Bass, co-founder of Moshi Moshi, reckoned them a promising act and gave them the nod. Since then they've performed regularly, garnered more fans and kept old ones, and quietly worked on the latest EP, Keep Safe Your Keepsakes.
Now, having watched The Dufflefolks from early on – we're in the same group of friends, and that should be noted when you're reading my thoughts – it's fair to say that, as one of the strongest EPs by a band I've heard this year, Keep Safe Your Keepsakes spans a greater musical range than their earlier attempts, and has a greater cohesiveness, even symmetry.
Put simply, the band now seems comfortable with what it means, in terms of the identity of the band as a foursome, to be The Dufflefolks. While earlier recordings were a little more ventriloquist-like, more explicit with influences, and suffered as a result, this is all them. Pinned in from its centre by the excellent combination of 'Hands in the Dirt' and 'Hunting' – both more melancholy and more disconcerting than anything they've produced before – the EP begins and closes with 'Two Hands Clapping' and 'Jonathan' respectively, the first announcing Keep Safe Your Keepsakes in a frantic and impressive fashion, and the latter concluding it in anthemic style.
That's the thing; this EP improves what The Dufflefolks have done before and adds something else too. 'Homegrown' and 'Ley Lines', tracks from their previous EP Through Fire Escapes Love, don't feel unlike 'Jonathan' but they aren't nearly as good (though both tracks have a laid back feel that this EP has lost) and 'Hands in the Dirt', probably the best track, feels entirely new for them.
It's not one I've heard them play live, either. Perhaps a sign of things to come, then? Combined with 'Hunting', a track full of nods to bands you wouldn't before have readily associated with their sound – there's a whiff of The Cure about it – this EP represents strengthening as well as progression. Here is a band enjoying continual evolution of their sound; with every new attempt, they get better, and this is the best yet.
It'd be doing The Dufflefolks a disservice, though, to treat Keep Safe Your Keepsakes as another improvement on a trail toward a 'first proper album' – it's perfectly great on its own. In fact, it's the first time the band have produced something independently great, something that doesn't need to be qualified as 'a young band training in the business of great music' – it's simply a strong collection of five tracks.
There's also an album feel here. 'Hands in the Dirt' and 'Hunting' close with semi-sprawling instrumental sections that break with formula and hint at the idea that the band were considering the effect of the five tracks in conjunction with each other, and the mood, through the convulsive opening of 'Two Hands Clapping' and beach-surfery bounce of 'Well Read Fools' to the taut and teeth-gritted 'Hands in the Dirt' and 'Hunting', is controlled and delivered. Perfectly poised for the light melodic confidence of closer 'Jonathan', 'Hunting' and 'Hands in the Dirt' feel like non-identical twins.
To that end, Keep Safe Your Keepsakes is a mature effort from a band still looking to showcase their work. The only downer, really, is that 'Well Read Fools', which functions well in the scheme of the whole but feels less well crafted than the four tracks around it, makes the cut: it's easy to see why a song of its type needed to appear, but it isn't of the quality of the rest of the EP, which is very high indeed.
Nonetheless, Keep Safe Your Keepsakes signals The Dufflefolks as a band to watch in future, and contains quality music that warrants listening to in its own right, right now.
Words: Chris Woolfrey