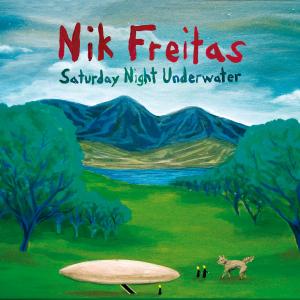 Richey Edwards used to style his hair as Ian McCulloch, John Lennon was initally obsessed with having an Elvis quiff and Ian Curtis tried to dress like David Bowie. Great musicians all have to start somewhere and their beginning is usually to ape the idiosyncrasies of their heroes. With time though, they take these influences and ally them to their own eccentricities and create an identity all of their own. To be special and memorable make your music unique and don't wear the clothes of your influences.
Having been part of the touring bands for both Broken Bells and Conor Oberst's Mystic Valley Band, it's no surprise that Nik Freitas has their influences on Saturday Night Underwater. Most reminiscent of Broken Bells forebearers the Shins, Freitas makes delicate acoustic pop music which is underpinned by dreamy atmospherics. With his synth elements he's also taken the dark pop of the new romantics and added a more cheerful undertone.
Songs such as 'Saturday Night Underwater'and 'Little Man' are dreamy, carrying the listener along clouds as they sink back into their warm melodies. Unfortunately though, it seems that Freitas still had his hand held by the Shins during his song writing process. Freitas has clearly taken diligent notes from his forebearers and he's made a very reasonable job of interpreting what their music is about on a technical level. What he's neglected to do though is to include himself. For bands such as the Shins this is natural. They create music which digs into the souls of their listeners and lets them know instantly that they are listening to a Shins track. Saturday Night Underwater is indistinguishable from a Shins side project.
As the last song disappears from my speakers, it took me a moment to realise the album had finished. I'd drifted off, my attention destracted from the music. This is the real issue with the recording, it doesn't grab your attention. Freitas is happy to create music that's pleasant, well composed and intelligently thought out. What's he's forgotten to include is the hooks, siganture changes and immediacy necessary to create memorable music. This album is like a relaxing dream, the sort of dream you have every other day and instantly forget because there is nothing to separate it from its predecessors.
When Freitas steps out of the comfort zone of his influences and stamps his identity upon his music then it becomes more memorable. Unfortunately though, this only really happens in track five, 'Middle', which is underpinned by a brilliant piano melody. If Saturday Night Underwater was his first release then I would be tempted to say that he just needs to be unafraid to add himself to his music. As it's album number seven I sense that he's found his musical identity and that it's to wear the clothes of other musicians.
Words: Damien Girling