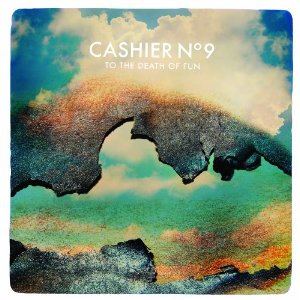 What do you get if you take the Jesus and Mary Chain, the Byrds, Phil Spector, New Order and stick them all into a cocktail shaker? Then serve the contents to five guys from Belfast? The result is Cashier No.9, the psychedelic pop/rock quintet who have released their debut album To The Death Of Fun on Bella Union.
Even though you can hear quite number of artists in their work, Cashier No.9 combine them all to create their own unique material. The production by David Holmes is big and bright and highlights the fine musicianship within the band.
There are quite a lot of standout tracks on this debut offering. Single 'Goldstar' is a good introduction with that big Phil Spector sound in its makeup. The opener here, it features a laid back Jesus and Mary Chain-style vocal laid over a backdrop of indie electro-rock.
'To Make You Feel Better' is a different kettle of fish. The bluesy slide guitar laid over some shining synth arrangements is reminiscent of Primal Scream, and serves to demonstrate the range of ideas that make this an eclectic album which is both stylish and interesting in its delivery and content.
There is also a hauntingly soulful approach to songs like 'Good Human,' 'The Lighthouse Will Lead You Out,' 'Good Bye Friend,' and their new single 'Lost At Sea'. Their vocal harmonies have glided straight over from the west coast of America onto a runway of psychedelic sequencing and jangling strings. I imagine that we will be hearing a lot more about Cashier No.9 because they have certainly put a lot of thought and creativity into this album.
Words: Shaun McCoy