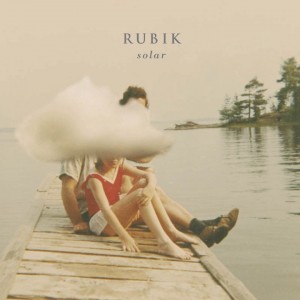 We'll admit we don't follow the Finnish music scene that closely, but were any of us to do so, we'd find Rubik somewhere near the top of the pile. Solar, released here in the UK only now, has already been out for a couple of months back home, where it went straight to number one, and saw them branded "a modern national treasure" by Finland's major music monthly, Sue.
Heady words, and at times, you can see why. Because when they're good, Rubik are very good indeed. Like on the long, winding, but wonderful 'Storm In A Glass of Water', or on the silky 'Towers Upon Towers', which recalls The Antlers.
But it's not easy to fall immediately in love. Rubik race their way through every style and sound you can imagine, with the whole thing only loosely held together by the signature sound of Artturi Taira's vocals. Comparisons have been drawn to the likes of the Flaming Lips, Arcade Fire and Animal Collective, but from the aggressive onslaught of opener 'Through the Haze of our National Anthem', it can be a battle to dig your way through the noises and effects to find the craft of their songwriting. You think at times of the controlled chaos of tUnE-YaRdS, but at times here, most obviously 'Chrisis Meeting At The Lyceum', it's just chaos.
Don't get me wrong. There's more than enough to like about this. You just have to put in a bit of work to find it.