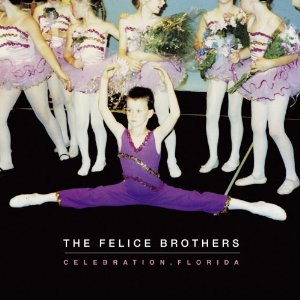 When I think of Americana, I think of banjos, harmonica, gritty vocals with a bit of a twang. Frankly, I think of songs like the Felice Brothers' 'Frankie's Gun!!', with its old-time storyline and humming accordion. The New York band's latest work, Celebration, Florida, hardly fits this well-established mold: Ian Felice's Dylan-esque tone is swathed in synthesizers more often than acoustic guitar. Nonetheless, the Catskills quintet has produced a modern portrait of the United States, chock full of contemporary themes and sounds.
Celebration, Florida doesn't disguise the band's new direction. Opener 'Fire at the Pageant' is a feisty zombie tale with complex sounds (including a children's choir) and shifting tempos. It sets the scene for the other ten tracks on the album, all of which employ instrumentation beyond the folk-rock band's standard fare. Celebration walks the fine line between complex and cluttered, sometimes layering elements to the point of distraction. The country yodel-laden 'Dallas' is buried in reverb, while 'Honda Civic' frenetically switches speeds as intrusive horns bray. This is not to suggest that all these additions, from the drum machines to distorted guitars, are without value. The smooth synthesizers behind Ian Felice on 'Oliver Stone' make his crackling voice that much more affecting, and the building cacophony of 'Ponzi' echoes the despair in the story itself.
Indeed, much of the album's sentiments could be summed up in the final cries of 'Ponzi': how did it end this way? Celebration, Florida is an examination of a world that has become engulfed by clutter, an America characterized primarily by excess. The final pleading lines of 'River Jordan' are the most heartfelt on the entire album, and speak to a desire to go back to a different world. Although the Felice Brothers' latest work has its moments of overindulgence, it is still an earnest critique of contemporary existence.
Words: Katie Carroll