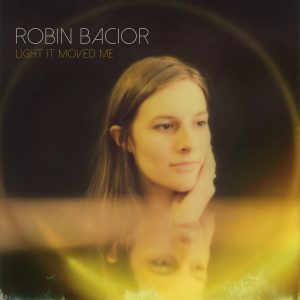 Although you may not have heard of Robin Bacior, she is no newcomer. In fact, it is hard to think of a more accomplished songwriter and artist, and Light It Moved Me is further proof of it. Moving seamlessly between sensory soundscapes, she has now surfaced from the troubled waters of Water Dreams into the sometimes blinding, sometimes fleeting beams of this new record. The soundscape of Water Dreams was so neat that it's difficult to forget, but Light It Moved Me is something more, defining what we might call the first step in a search for the universal in music.
As classical as it is sparkling and confident, this new record is, very much like light itself, an elusive object: you might find yourself following one lead, to lose another. Arrangements appear and disappear in luscious chiaroscuros, so that tracks might sound purely vocal even when they are most layered (, e.g. the 'existential' orchestration in 'A Story In The Times'). Despite the depth of the arrangements, the overall feeling is of a consistent, lively, drive in the songs, with trumpets and drums underlining Robin's vocal meanderings, such as on the title track. Style-wise, the reference to 70s crooning/jazz pop is tangible, and Robin navigates it masterfully, like perhaps only Andy Shauf has done in recent times ('For Jim', 'Queen Of The Hour').
One of the biggest accomplishments in Robin's songwriting is the relationship you can find in her pose towards the world and to her inner world at the time of making this album. In this respect, I think that Light It Moved Me interprets musically the two-sided relationship (confused but also excited) that people of her generation have with today's world ('Modern Confusion'). In this respect, Robin's music acts as a powerful magnifying but also soothing filter.
Light It Move Me is out on the 31st August, and will available on Bandcamp.
You can preview the entire album below: