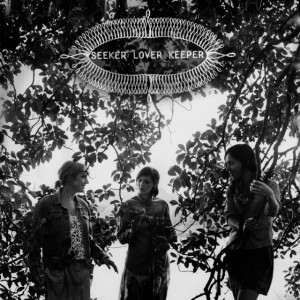 There will always be a place in my heart for keening melodies played on acoustic guitar, and soaring close-harmony vocals. Some might baulk that music like this fails to push boundaries: others, the folk purists, (generally the most militant of listeners) that the effect is too mainstream, too influenced by pop. If hit-makers aren't your bag, then you might as well move on – in Australia this album is already a hit, certified gold on the Official ARIA Charts.
But then it would be, because Seeker Lover Keeper is the pseudonym for the collaborative efforts of Sarah Blasko, Sally Seltmann and Holly Throsb, all reasonably major names down under, and certainly on the radar for anyone who likes this sort of thing. Seltmann in particular picked up international plaudits for co-writing Feist's itunes-promoting 2007 hit 1234.
Of course, there's never been any shortage of supergroups, yet artistically successful ones are rare. Usually they're marred by the overbearing influence of the most famous (and therefore powerful) member. Or if not that, then a lack of individual inspiration. Either way the result tends to be same: self indulgence. Boring albums that deliver little. Thankfully, Seeker Lover Keeper have managed to prove that, when the circumstances are right, successful solo artists can meld together in (literal) perfect harmony and create something truly wonderful.
This is not quite a folk record. It runs through a variety of genres, frequently veering into the territory of chart-pop at its classiest. 'If The Night is Dark' is an emotive piano ballad of such effortless accomplishment that it could win somebody the X-Factor, while 'Even Though I'm a Woman' manages to invoke the same sense of propulsive twee hipsterism that's currently all the rage amongst cutie-pop indie bands like The Narcoleptic Dancers, while remaining infinitely more genuine and, what's more, endearing.
However, it is at its most stripped back that the album is at its most beautiful. On the tracks 'Bring Me Back' and 'We Will Know What It Is' the trio's ethereally hypnotic harmonies are brought right to the fore, counter-pointed by intricate guitar work and sweetly simplistic melodies. Only somebody with no soul could fail to be left anything other than spellbound.
Words: James Robinson