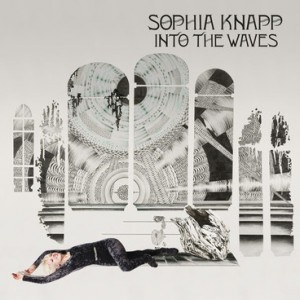 Into The Waves is Sophia Knapp's first solo record away from her 'day job' in Brooklyn-based rockers Cliffie Swan/Lights. Describing music as 'pleasant' and 'nice' can often be a curse word and code for saying it's extremely boring. Not in this case though: this is quite enjoyable as well as…you know, nice and pleasant.
Opener 'Glasses High' is the standout. As songs about death and remembering people goes (sample lyrics include "Leaving people behind is never easy to do") this is remarkably joyous and upbeat. Gentle acoustic guitars give way to a smattering of piano notes before it grows into a toe-tapper. 'Close To Me' is in a similar vein, enough if it takes a good minute and a half for a groove to come out of nowhere.
Both of those standouts are bright and breezy and breezy is a word that could sum up Into The Waves as a whole. This can be its downfall if you're not in the right frame of mind but there's enough variety shown in the songwriting to keep things interesting. The title track is more purposeful in tempo whilst 'Looking Into Another Day' is a very decent wistful and downbeat country tune. Then there's the wonderful 'Weeping Willow', which features a welcome cameo from Bill Callahan. It's refreshing to hear his distinct vocals against a full-sounding musical backdrop and deep tones compliment Knapp's higher range extremely well.
Into The Waves is a fine and sprightly record will definitely reward listeners who give it
more than one chance.