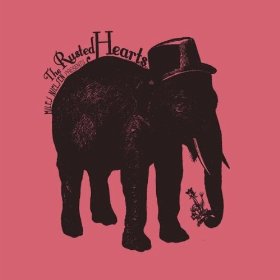 With The Rusted Hearts, Miles Nielsen has honed his sound to an ideal pop/rock state: a knack for catchy melodies, shimmering guitars and flawless production, as well as quite a few nods toward his musical forerunners. The album opens with the words "Rusted hearts / like empty shopping carts," and continues lyrically along those lines with various ruminations on love and loss.
Songs such as 'Rusted Hearts' have been in Nielsen repertoire for years and sound suitably polished, while others scatter onto newer grounds. The secondary instruments, including organ and a horn section, give a rounded feel to the tracks. Elsewhere, as on 'All Time Loser', they supplement Nielsen's vocals with appealing quirkiness.
The album spans an interesting range of genres– from 60s pop harmonies and guitars on 'Baby Blue' to Waits-esque storytelling, as well as eccentric instrumentation on 'Maria' – but it works, mostly. The heavier, distorted guitars of 'Disease' give a more 70s feel, with a Neil Young riff and fuzzy vocals. 'The Crown Reprise', by contrast, begins as a solid pop/rock ballad but falters as it adds in drums and affected vocals. Many of the choruses will have people singing along after only a few cursory listens, especially on 'The Grain' and the refrain in 'Overrated' ("You're no better than I am / but you're better looking").
The country/Americana sound on 'Dear Kentucky' falls short of spectacular but does work as an ode to American music, with the apt words "all this talk about Bluegrass and I'm seeing green". 'Sirens' opens with a horn composition, followed by an epic guitar riff (a la Black Keys), organ running under the quiet verses and a glorious pop chorus. The organ carries on into 'Soul Bash', which closes up with a short skiffle-y instrumental.
Altogether it's a well put-together album of pop songs with lots of genre-mixing, most of which is great, although there are moments that miss the mark a bit. The main problem seems to be in the overlaboured vocal production, yet the song-writing, guitar work and horn section pull through to give the songs a nice depth.
Words: Alice Knapp