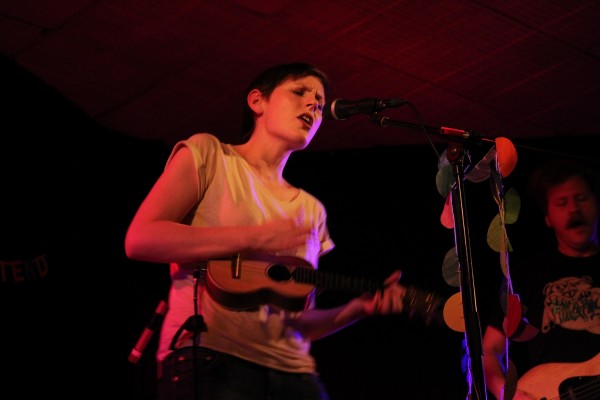 'I feel like dancing on my own to a record I do not know' declares Elizabeth Morris as she sings 'The Polaroid Song'. And while this song from their wonderful debut is an exception, that is largely what we're here to do (well, maybe not alone) at the Brudenell as Allo Darlin' dedicate the bulk of their set to material from upcoming sophomore effort Europe. And while it's never easy to draw too many conclusions about an unreleased album from a live airing, it sounds on first impression that their second installment might be a little more full bodied than a debut that proudly wore 'twee' as a badge of honour.
They ease us in slowly with the dreamlike 'Neil Armstrong' before launching into the rollicking 'Capricornia', the outstanding first single, and the pumping title track, 'Europe' which soon has the room moving to a song we don't know. 'Darren', the blinding tribute to everyone's favourite aging indie kid Darren Hayman, has been my favourite Allo Darlin' song since I first heard it (it superseded 'Let's Go Swimming' for the record) and a rousing rendition here only cements that status. 'The Polaroid Song' and 'Silver Dollars' briefly take us back in time but the focus remains firmly on the new as they road-test the soft, sweet love song 'Some People Say' and the more energetic 'Motherland'.
After finishing the main set with 'Dreaming' they return with a cover of the Go Between's 'Dive For Your Memory', a song so slow it sticks out like a sore thumb in this set, but they now have this Leeds crowd in a mood for more, and a demand for 'Darren' b-side 'Wu Tang Clan', written by Mr Hayman himself, is accepted in an impromptu departure from the setlist before selected elements in the crowd lose themselves entirely to 'My Heart Is A Drummer', dancing far from alone to a record we all know only too well.