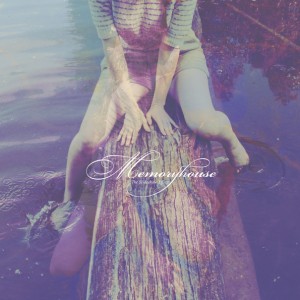 It must get boring being constantly compared to another, bigger, more successful band, so let's get it over with quickly. Yes, Memoryhouse sound a bit like Beach House. They're both 'dream pop', they both have female singers with defined, droney voices, and they both have 'house' in the title. There, it's done, time to move on.
And we need to move on because it's not fair to Memoryhouse to get bogged down with comparisons when, actually, their music can stand tall on its own.
The Slideshow Effect, the first full-length record from Ontario's Evan Abeele and Denise Nouvion, is truly lovely. It has its finger, thumbs, toes and other bits in so many pies, so many genres and eras, that it's cruel to suggest that they've jumped on the Beach House bandwagon.
Opener 'Little Expressionless Animals' starts with a modern-twist on the Beach Boys harmony, soon thrust into darkness with its minimalist industrial beat accompanied by the antithesis of sweet and soulful strings as if taken from Colin Blunstone's One Year.
The melody is simplistic, but Nouvion's vocals, reminiscent of the tragic Judee Sill, are warm and comforting. It's a real gem, and quite a risk for a first track.
'The Kids are Wrong' would have been a more obvious choice – a pop song with a catchy tune and a bit of an 80s throw back feel. You could imagine it on a TOTP2, just after The Cure. Think Allo Darlin' meets that annoying song about 99 Red Balloons, but good!
One of the highlights of the album comes with 'All Our Wonder'. Okay, maybe the Beach House comparison is worth another mention here, but the Rhodes and slide guitar melt together with Nouvion's enchantingly possessed voice to create a spell-binding track.
There are peaks and troughs to Slideshow. At times, it can seem a little samey – each song has its slow start, a more upbeat middle and is so very dreamy – but that could be a sweeping comment applied to any dream pop number. It's the misty monotonous fuggy feeling that gives it its name after all. But the troughs aren't deep – mainly just a mid-album lull – and the peaks are oh so high. Like 'Walk With Me', so innocent and sunny, with its toy xylophone tinging on top of distorted guitar. It'll bring a smile to your face on your walk to work. And 'Kinds of Light', beginning like a new Kate Bush number and ending on such an emotional uplift, it'll make your day.
It goes without saying, if you like Beach House, you'll like this and if you hate things that sound similar to other things, then you might hate this, but it's worth its own ears. It may even be a bit more diverse than other dream pop records, given its many nods to the 60s, 80s, country and folk, all wrapped into one sweet and enchanting record.
If you want even more Memoryhouse, then a special mention must go to their cover of The Zombies' 'This Will Be Our Year' – hunt it down, it's utterly brilliant, a homage to an amazing song and with its own warm splattering of dream pop psychedelia. Lovely.
Words: Gemma Hampson