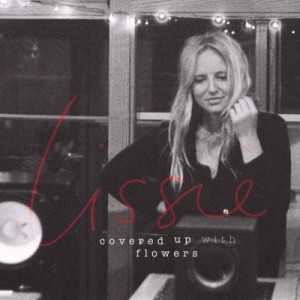 Lissie has always enjoyed a good cover version. Youtube features almost as many videos of her taking on other people's songs as her own, with targets as varied as Bob Dylan's 'Ramona' to Metallica's 'Nothing Else Matters' to Hank Williams' 'Wedding Bells'.
So the only surprise about her releasing an EP of cover versions is that it took so long. Covered Up With Flowers collects Lissie's favourite covers, with several songs that have become almost standards in her live sets. The collection flips between some surprising stabs at coverting hip-hop and mainstream pop songs to Lissie's sound, and renditions of more familiar folk-rock tunes.
It opens with a live version of Kid Cudi's 'Pursuit of Happiness', turning the hip-hop original into something more akin to the folk-rock of Catching A Tiger with some considerable success.
Lissie is on more familiar turf when she uses her trademark smooth sound to tackle Fleetwood Mac's classic 'Go Your Own Way'. It's a fairly obvious move, not least as Lissie's voice has often been compared to Stevie Nicks. The world barely needs one more version of this standard, and we'd still recommend the original first, but Lissie catches this with enough effortless cool to make it a worthy inclusion.
Her take on Lady Gaga's 'Bad Romance' is the most eye-catching cover here, but it has become something of a live staple since Lissie first tackled it in the wake of her own break-up. Her raucus performance is enough to convince even me there might be merit in Lady Gaga's work.
From there, Lissie goes back in time to 1969 to give us a fine version of country-rocker Joe South's 'Games People Play', which is one of the highlights of this EP as she strips back the over-elaborate instrumentation of the original to deliver what is a great tune straight.
That Metallica cover is then re-heated and, given it was my favourite Lissie song when I first saw the video a couple of years ago, I'm forced to say it's the best thing here. The pretensions of the world's biggest heavy metal band are dropped in favour of the raw power of a great song.
Lissie brings things to a close with a haunting version of one of Nick Cave's greatest works 'Ship Song' to round off a fine selection that demonstrates Lissie's dab hand at reinterpreting the works of others. It's timing is no doubt meant to put her back in our minds as she prepares the release of her second album later this year, but Covered Up In Flowers is doing far more than filling time.