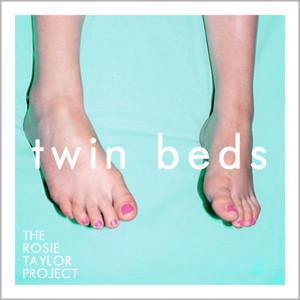 From the offset, Twin Beds lulls you into a false sense of security. Chirruping percussion contrasts to a swirling and dreamy rhythm on opener 'Twin Beds (one)', before 'For Esme' opens with a blast of trumpet, giving birth to a rollicking song that constantly changes pace and direction amidst myriad ideas. It is this sense of contrast between subtlety and urgency that permeates much of Twin Beds, the second album from The Rosie Taylor Project.
The laid-back feel of tracks such as 'Last Drinks at Niagara Bar' and 'A Walk by Moonlight' seem to perfectly encapsulate the stillness of the night-time; the former perfectly painting the image of what its title suggests, with lulling piano and a hushed drumbeat carrying the song along. Yet this dark and drowsy aesthetic is shattered with 'Sleep's bouncing and boisterous nature, opening with a gently-picked guitar but growing into something stomping and joyous, much like 'Lovers or Something Like That' with its groovy guitar lines. Yet songs such as 'The Bluest Smile' and 'Gloria' seem almost formulaic, full of gentle sounds that seem to build for an ending that never quite arrives.
Davis' vocal delivery remains a constant throughout the album, as his deep drawl, reminiscent of Noah and the Whale's Charlie Fink, often takes precedence over the instrumentation. And rightly so, as Davis is a true storyteller with an often witty and profound turn of phrase, such as with the line 'I have a room of memories/ and I have a box of regrets' in the 'The Last Happy Writer', or 'Sleep's evocative 'I'm the tongue in your French Kiss'. However, the overemphasis lyrically on love and romance can sometimes fall into the trap of feeling clichéd and worn.
Twin Beds is an album of much beauty, but one too full of contrasts, and thus lacking cohesion. Each song is full of its own charm, but over the length of the whole album much of it feels too similar, as if each song would work better as its own part rather than as a whole. Yet there are excellent moments to be found, and it is these moments that ultimately show promise of what more could come from The Rosie Taylor Project.
Words: Adam Lowe