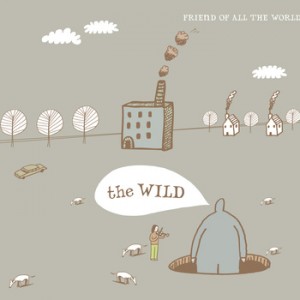 There's an underwhelming description of the Friend Of All The World on their website which suggests the Montreal band don't fully understand their own strengths. As statements of intent go, "tunes that evoke the camaraderie of a kitchen party" hardly sets the pulse racing. And indeed, there are country-tinged tracks on The Wild that fit that description to a tee – but this is absolutely not what they are about. What they are about – what thankfully, eventually dominates The Wild – are frontman Rob Cole's ear for a downbeat tune, his unsettling imagery and the subtly rich arrangements which bring, not camaraderie, but aching isolation vividly to life.
And yet it's an album that demands patience. Tracks like opener 'Smokestack', 'Remembering The Stars' and 'Eyes', with their banjos, ukuleles and amiable harmonies, are nice enough, but largely forgettable. But in amongst this rather unremarkable fare is the album's standout track. 'The Heartwood' is terrific. "I've no skill with a brush but maybe words can conjure a scene," is as fine an opening line as you could hope for – and a conjure a scene Cole certainly does, of millions of blank faces in their cars who can't explain why they've gone out in the night-time rain. It's a tale of the wearing effect of urban life, quite gloriously at odds with the camaraderie of a kitchen party.
And just when it seems the track is an unbearable burden for The Wild to take, the record kicks in for real at the midway point with 'First Snow' – a song so atmospheric you'll shiver with cold – then the undeniably creepy slow-build waltz 'The Dance', in which Cole sings "I danced with your mother, I left her cold in her grave". Cold, night, snow, rain – these are the things that Cole keeps coming back to, the things that give his best work its character and considerable pull. Friend Of All The World may want to be a band of warmth and camaraderie, but it's the minor-key territory of cold and lonely they do best.
Words: Ali Mason