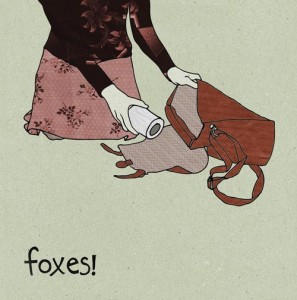 There's something glorious about indie-pop. I dunno. Possibly it's the images of chunky, patterned, jumpers that it conjures. The thought of skinny jean clad, Morrissey quiff sporting, men throwing flowers in the air and catching tears in their eyes. Perhaps it's the memories of gender shared romantic ineptitude, bending towards each others knees as you see yourself reflected in the shyness of each others eyes. Or maybe it's because the music sits so happily inside your head, errecting fluffy walls and carpets that let you fall backwards into them and be kept safe. Who needs someone to catch your fall when you have indie-pop?
I don't like indie-pop, I LOVE indie-pop. A head start then for young upstarts Foxes! (such temerity to add an exclamation mark, yes we know you're here!). An excellent synth laden piece, 'Aisle No. 3' misleads the listener into the sense that the albums remainder will be a collection of bittersweet harmonies, like the work of Danny Elfman. Yes there is a little of this, but its shot through with such energetic pop mastery that the bittersweet quickly becomes beautiful. My favourite song is the excellent 'The Panda Bear Song', but the whole record is full of brilliance. '6 O' Clock', 'Alex Badamchi', 'Descartes' and 'Oh Rosie' are all superb songs and there seems to be no filler. As these songs escape a smile spreads across your face which stays there until the album reaches its conclusion.
What I find most charming about this self titled debut is the bands choices of influences. There are nods made to Beat Happening, All Girl Summer Fun Band, Apples in Stereo (without the consistent duvet of distortion) and The New Pornographer, meaning the band sound as though they've jumped straight from a K Records compilation. Every year seems to herald the revival of indie-pop. Let's just face it, indie pop never died and bands like Foxes! will make sure it lives forever.
Words: Damo Girling