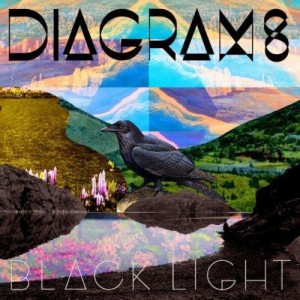 This slice of quirky loveliness comes from former Tunng frontman, Sam Genders, plus a host of supporting musicians that reads like a roll call of up and coming folk artists. These include Hannah Peel on backing vocals and trombone, Danyal Dhondy on strings, and vocals from Laura Hocking. It's therefore not surprising that, at times, the material is not a million miles away from his former project, and the ghost of Tunng lurks in the folk sensibilities and electronic flourishes.
Elsewhere, however, Genders experiments with 60's guitars riffs, funky bass lines, unusual time signatures and 70's prog and psychedelic. Not so Tunng after all.
Opener 'Ghost Lit' begins with some dreamy falsetto, then combines nostalgic guitar melodies and
space-age synths to create a woozy, compelling tale of reflection: "A broken whisky bottle/ is all
you've got to show for losing your control." This is followed by 'Tall Buildings', one of the strongest
tracks on the album and certainly the most instantly memorable. There's a Duran Duran-like, programmed drumbeat and appealing 80's sparseness before the chorus flowers into a gorgeous, multi-layered soundscape.
Genders continues his appetite for juxtaposition and experimentation on 'Appetite', which begins with a Britpop-style guitar riff before some Casio-sounding synths kicks in and an off-kilter, Field Music-esque tempo emerges. Quirky, shifting tempos also proliferate on 'Mills' and 'Animals', the latter being possibly a little too reminiscent of Everything Everything for comfort. Meanwhile, 'Black Light' is a dancey, minimalist joy that takes its genesis firmly from 80's pop.
Black Light is a delightful musical smorgasbord, its disparate elements held together by Genders' soft, distinctive vocals. As the man at the helm, he's clearly not afraid to dip into such diverse musical pools as synthpop and prog – indeed, on 'Peninsula' you get the feeling he's one step away from breaking into a seven-minute keyboard solo a la Yes or Deep Purple. Genders has been described as a bedroom artist, but if Diagrams is a bedroom project then it's broken free into the world, absorbing styles, influences and sounds seemingly at random. Long may it remain uncaged.
Words: Theresa Heath