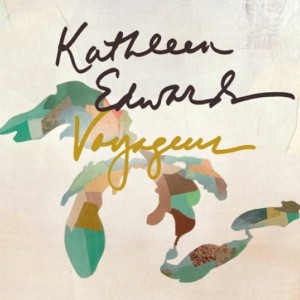 The glittering cast list attached to Kathleen Edwards' new record promises a huge amount. Produced by her sometime spouse and fellow Wisconsin dweller Justin Vernon and featuring guest appearances from the likes of Stornoway, Norah Jones and Francis Farewell Starlite, Voyageur's reputation goes before it. Opener 'Empty Threat' is a jaunty, summery tune that bounces along into the charming 'Chameleon Comedian', and then to the lovely 'A Soft Place To Land'.
Things continue in a similar vein, Edwards' soothing voice echoing over mid-tempo strumming and mellow keyboards. It's
inoffensive, coffee-table stuff, bringing to mind Laura Veirs and – god forbid – Dido. Edwards already has a rich and impressive career behind her, having been gigging for more than ten years, and this is her fourth studio album.
The highlight is the final track, 'For The Record', a duet between Edwards and Norah Jones who share a mournful harmony as they sing "Hang me out in the sun / for the record, I only wanted to sing songs." Voyageur probably sounds better when the listener is surrounded by palm trees, bathed in sunshine and sipping a cold cocktail. But on a damp, gloomy weekend in suburban England, it's hard to get excited by a record that rarely threatens to move out of second gear.
Words: Sam Blackledge