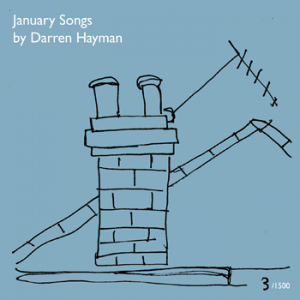 Just over a year ago, Darren Hayman embarked on an ambitious songwriting project – a new song every day for a whole month, original compositions – written, recorded and online by midnight or he'd turn into a pumpkin and calamity would ensue. Okay, probably not the last bit, but it was still a pretty big commitment and one that helped cement the immediacy and closeness that singers like Hayman increasingly cultivate from behind a computer screen.
Now the songs are getting a much deserved physical release, on a limited edition two-disc set. What's more, in the spirit of the project's original urgency and relative uniqueness, each one will come with an individual cover hand-drawn by Hayman himself. Workaholic much? As the For Folk's Sake writer informally labelled "our unofficial Hayman correspondent", I've been asked to review the package and, as that label might already hint, I'm predisposed to really rather like it.
As with most albums when they stray beyond the two dozen song mark, not every song is going to be a classic – just as Coleridge said that a long poem "neither can be, nor ought to be, all poetry". And besides, the point of the project was to see what could be written under certain conditions, with certain limits – to let us reach the dead ends of the maze amongst all the (many) triumphs is to show fidelity to a project that is more than the simple sum of its parts.
And what triumphs there are – the slow spoken word of 'The Return', reminiscent of James Yorkston's 'Woozy with Cider' is one of my favourites, along with the luscious acoustic pop of the track that follows it, 'No Different for Girls', with vocals from Valentine Leys who joins a host of guests collaborators (including members of The Wave Pictures, Allo Darlin' and Ballboy) on a 31-song cycle is remarkably consistent. It's more archive than album, such is its extensiveness, and you're guaranteed to find something interesting wherever you dive in.
It's often said that Rome wasn't built in a day. Obviously they weren't trying hard enough.
Words: Tom Moyser
Film about January Songs Cover Art from Darren Hayman on Vimeo.
A video of Darren Hayman drawing some of 1500 copies of January Songs from Darren Hayman on Vimeo.