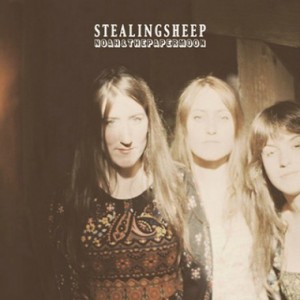 With their long drapes of hair and songs dotted with twangling loopy bits and swooping girl-trio harmonies, Stealing Sheep are a bit of a throwback to hippydom, but they have more than retro appeal going for them. Noah and the Paper Moon feels fresh and playful, with beautifully textured tracks that are lifted out of twee predictability by shifts in pace, dramatic drum-thuds, and sharply-toned meanderings that veer back into more anchored choruses, like a drunk bumblebee.
Even when they're dealing with sadness, or being far from home ('Your Saddest Song', 'Noah's Days') they sing "go outside and take some air", cheerful without being too tame. They'd fit alongside Alessi's Ark and Laura J. Martin in this sense, but ultimately sound unique.
The Noah theme runs through the album; beginning with 'I Am The Rain', droning synth undertones and echoing, silvery vocals make it feel like the songs were somehow recorded in a flood. 'I Am The Rain' and 'The Mountain Dogs' are the most accessible tracks, but the more complex, dreamy bedtime narratives of 'Bats' and 'Paper Moon' also really shine. This is a very impressive collection, all spirited stories and adventure.
Words: Becky Varley–Winter