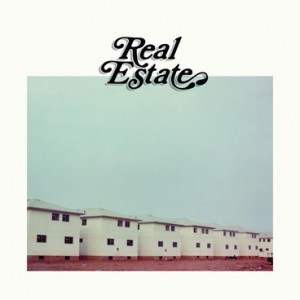 The word 'sunny' rarely gets a look in around this time of the year, when daylight itself becomes a precious commodity. But Real Estate are a band that can't avoid the word. Categorised as 'surf-pop', which essentially means they sound a bit like The Beach Boys, the New Jersey five piece have been intrinsically linked with summer since their debut Real Estate was released in 2009. And album number two, Days, doesn't show any dramatic change in sound – instead showing more of a refinement. It's very much the album expected of Real Estate- undemanding, romantic and, of course, summery.
Given that we're now told to buy our vegetables seasonally, should we follow the same logic with our album purchases as we enter the winter months? A few of the lyrics to 'Easy', the breezy, reflective album opener, could indeed jar with your average winter commuter: "Floating on an inner tube, in the sun/Around the fields we run, with love for everyone".
But as soon as the bouncy optimism of 'It's Real' leaps out, it becomes clear that what Real Estate inspire is escapism, not seasonal jealously. Often the songs end hypnotically, with repeated bars of the same rolling basslines and woozy reverb, played at a rhythm that could relax the most agitated of commuters. Vocalist Martin Courtney, with a singing style bordering on comatose in terms of its lack of urgency, dictates the woozy tone of the album to a tee.
Yet the ease with which it's possible to drift in and out of Days, almost as if in a perpetual daydream, could be seen as the album's main weakness as well as its strength. The band lose focus after the halfway mark and songs instead start to ape styles bettered by their contemporaries, turning nonchalance to lethargy.
'Wonder Years' sounds similar to Yo La Tengo at their most sunny, but lacks the enticing threat of experimentation that won the latter cult following. And 'Younger Than Yesterday' carries the same classic rock sound of Springsteen and Neil Young that Kurt Vile and The War on Drugs have already nailed.
But Real Estate's defining characteristic is their canny knack for melody, exemplified on the instrumental 'Kinder Blumen', spaced out single 'Out Of Tune' and the blissfully layered 'Municipality'. Come the end of the winding, sedative album closing track 'All The Same', you'll be ready to start daydreaming all over again.
Words: Nico Franks