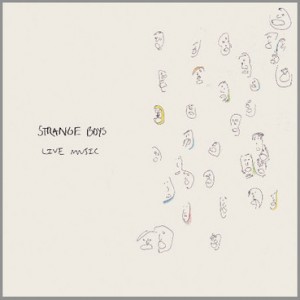 If you thought that Ryan Sambol's voice was a little too much like a cat being skinned by a chainsaw, Live Music, the third offering from Texan foursome Strange Boys, will come as a pleasant surprise. Sambol has refined his raspy, grating yowl into a tuneful, infinitely more listenable blues-rock instrument, and the rest of the band have cleaned up too. Purists needn't worry – there's still enough rawness to the vocals and minimalist production to appease those who adored the lower-than-lo-fi sound of previous albums, The Strange Boys and Girls Club and Be Brave. It's just that this time, SB's have cleaned up the sloppier elements of their act and worked out they can be musical and punk.
'Me and You', the first single from the album, is a delight – a piano-led pop tune that eschews the rough-shod sensibilities of yesteryear and, in the video, features the heart-warming vision of a man playing the piano in his underpants. However, by 'Walking Two by Two' we're back in the bluesy Americana territory of Be Brave's 'I see' – all twanging guitar riffs and lazy harmonica. 'Doueh' maintains the laid-back blues vibe and opens with an almost Tinariwen-like smoothie of a guitar riff – it's a mellow, 'sittin on my porch shootin the breeze' kinda song until a bit of distortion creeps in to rouse us out of our old-country reveries. On 'Omnia Boa' the band reprise their early 60's influences and give a a good ole', strutting, Stones-esque rock n' roll number which hardly needs Sambol telling us 'I've got feeling and I've got soul', as this track clearly has it in spades.
Live Music is, quite literally, an album of two halves. The first, produced by Spoon drummer Jim Eno, is heavy on the brash and swagger while the second, recorded at Mike McHugh's Distillery, is a less cocky or polished affair, but without descending into the scratchy cacophony that obscured some of the cleverer aspects of Strange Boys and Girl's Club. Towards the end things do start to feel slightly formulaic, although closer 'Opus' is an understated little gem, so stripped down it's practically running around in its pants.
For those concerned that SBs are 'playing nice', rest assured the bulk of the album still sounds like it might have been recorded in a spit and sawdust bar somewhere off Route 66 in 1964. Rather than detract from the appealing rawness of earlier material, the tightening-up begun on Be Brave produces a more varied and multi-faceted sound – something that was starting to feel overdue. With Live Music, Strange Boys aren't reinventing their own wheel and nor would admirers want them to, but this more accessible instalment will inevitably endear them to listeners not fans of having their brains aurally shredded. Of course, for those who felt that that was what was best about SB, Live Music may come as something of a disappointment.
Words: Theresa Heath