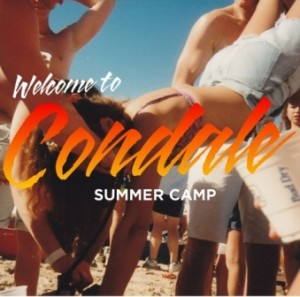 Partially-funded by fans using the PledgeMusic site, Welcome to Condale is the debut album from Summer Camp, made up of duo Elisabeth Sankey and Jeremy Warmsley. Treats such as a batch of Elisabeth's brownies or Jeremy's books were the incentives to invest, and invest people did; the band reached their target with ease, confirming that the music industry's best-kept secret were a secret no longer.
It is easy to see just why people are so interested in this band – such is the vivid imagery of the fictional Condale captured, through the romanticism of 80s American culture, that it gives the album a form of escapism, as listeners can lose themselves in this lionised but constant vision. 'Ghost Train' is the only song to survive from their 'Young' EP, a hazy ode to those lost days as a teen, as soaring vocals lament a lost romance – quite simply the sound of the summer, and every summer to follow.
However, the album is not all nostalgia, as with songs 'Better Off Without You' and 'Down' there remains a futuristic sound that combines so succinctly with the many influences evident. The former bursts into action with a heavy drumbeat and the sharp vocals of Sankey, and the latter is propelled by an urgent guitar, before giving way to a dark melody that somehow still finds a way to remain uplifting. 'Losing My Mind' slightly overdoes the wistful, hopeless-at-love feeling lyrically, but is redeemed musically, by a spiralling chorus. 'Nobody Knows You' offers a more sinister charm, with ominous synths taking the fore amongst Sankey's snarling vocals.
The narrative running through the album provides a continuous link between the songs, creating more of a whole package than merely a collection of songs. No more clearly is this vision laid out then on the wonderful title track, as Sankey claims Condale is 'a great place to raise kids/but they never will grow up'. Much like Summer Camp's music, this vision of Condale is a constant, one that 'never will grow up', and its charm is all the better for it. Critics may argue that this vision is
contrived and disengaged from reality, but that is exactly what gives the album its life – its escapism gives the listener the chance to feel a part of an idealised world, and for that, Welcome to Condale marks the start to a promising career from your new favourite pop band.
Words: Adam Lowe