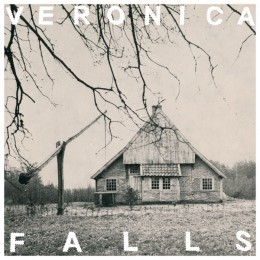 Misery and melody- successfully mixing both is arguably the most important part of any indie pop song. Too many sugary harmonies will rot your ears, but lay on too much gloom instead of tune and you're left with a bad Morrissey album.
On their debut, like The Smiths and a good Morrissey album, Veronica Falls find a great balance between directness and despondency. And although frantic garage rock songs about relationship woe are nothing new, told from the female perspective Veronica Falls offer gives them an extra lease of life.
The rollicking opening two songs display all the band's strengths outright, burning with a dark intensity. 'Right Side of My Brain' is a three-minute, melodic punk blast about unwanted sexual attention. Like this, and you'll like the whole thing.
The lyrics of 'Misery' are exactly what you'd expect from a song with that title, yet with chords played at maximum speed and drums rolling along as if powered by a traction engine, plus cosy harmonies à la Teenage Fanclub, and it manages to sound uplifting.
However, Roxanne's self-consciously detached vocals betray the spite present in a few of the lyrics, and it's sometimes frustrating that she doesn't sing with the same kind of passion she writes with. Her sweet voice juxtaposed against her barbed message to a groom on 'The Wedding' ("You don't love her like you love me / she'll never know that's the way it will be"), would be far more satisfying if the vocals and vicious sentiment matched up.
Further on, 'Beachy Head' sounds like the kind of song you'd hear in an American diner on Halloween, while 'The Box' is a Beach Boys pop mixed with Camera Obscura-like harmonies, with a nod to The Strokes along the way. The bass hook and faux-dumbness of 'Stephen' will either grate or delight, depending on your tolerance of semi-Pixie rip-off basslines.
There are two ways to look at their song writing style. In one sense it's derivative, with a distinctly retro sound, much like that of contemporaries Dum Dum Girls, Girls Names or Vivian Girls*. And because each of the songs centre on a singular guitar riff that weaves in and out of a melody, it's a sound that appears one-dimensional.
But looked at another way, the songs sound familiar because that's how melody works- and it would be wrong to mistake brevity for a throwaway lack of thought, as the album is surprisingly cohesive. Fingers crossed on their next album the four-piece carve out a more concrete identity in amongst their influences; if that happens, get ready to fall for them in a big way.
*Lots of potential here for a feminist analysis of the current use of the word 'Girls' in band names phenomenon.
Words: Nico Franks