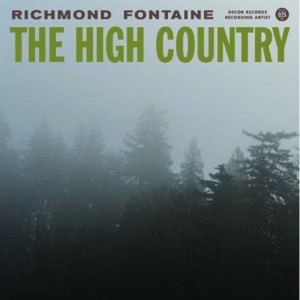 A simple but profound truth of gambling is that when you play for big stakes, the potential to lose heavily is sometimes obscured by the possibility of winning big. On Richmond Fontaine's 10th album, frontman Willy Vlautin has set the stakes as high as he dares – basically reimagining the parameters of the format – but, sadly, ends up coming off as a brave loser.
That's not to say The High Country is bad, not entirely anyway. It's just that if you aim to create something that straddles the mediums of folk music, cinema and literature, anything short of complete success is going to sound messy and confused.
The blurb accompanying the record flirts with pretentiousness – variously describing The High Country as a "song novel", "a gothic love story" and "operatically tragic" – but its sincerity is not in question, just the realisation.
Vlautin, a published author lest we forget, attempts to blur the line between storytelling and songwriting until it is impossible to tell which he is primarily trying to do. The problem is that, ultimately, he compromises both disciplines. Then, as if he did not have enough on his plate, he includes a series of spoken-word tracks voiced by different characters, snatches of radio and found sounds and the odd snippet of dialogue. Halfway through the album you can't help marvel at the scale of his ambition but you also have to question the folly of what is essentially a soundtrack of a film based on a book, all rolled into one disorientating whole.
The worst parts, without doubt, are two spoken parts called 'Claude Murray's Breakdown' and 'Driving Back to the Chainsaw Sea'. Primarily included to advance the story – which, incidentally, follows the relationship between a mechanic and a store girl – they include some grotesquely inauthentic voice actors indulging in a series of cringey exchanges.
The spoken word intro, delivered by a female narrator whose name I can't locate, is much better. She has a beautifully disconnected delivery and the understated, rootsy accompaniment underpins it deftly.
But the best moments, perhaps unsurprisingly, come when Richmond Fontaine settle back into just being a band. 'The Eagles Lodge' and 'Meeting on the Logging Road' are gorgeous little vignettes which may work as part of the bigger picture but, crucially, come across just as well as self-contained songs. Bravery and innovation should never be frowned upon but those two tracks are a reminder of what Vlautin and co. are capable of when they are not trying to reinvent the wheel.
Words: Rory Dollard