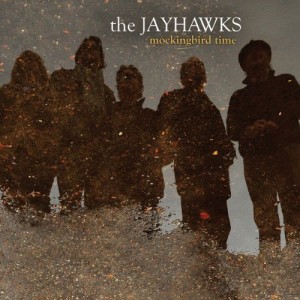 I'll be the first to admit that this is the first time I've listened to twin cities survivors The Jayhawks. Eight albums in may be an unfair time to form a first opinion of a band, but then it may be the perfect time. Removed from any inherent need to compare to their previous releases, I can be completely objective about their first new album since 2003.
Mockingbird Time has the influence of Neil Young and his country rock contemporaries all over it. A closed ear would discern the sound of the Byrds, Gram Parsons and Buffalo Springfield escaping from the guitars of Mark Olson and Gary Louris. As one would expect from an album incepted to such artists, it's dripping with melody and gorgeous harmonies. It's fitting that they should release this album during the summer, the festival season, because this album could have been conceived in a forest clearing, underneath crystal blue skies and a throbbing sun, before it bleeds into a strawberry sunset.
Standout tracks include the folksy 'Pouring Rain at Dawn', the melancholic 'Closer to Your Side', which makes excellent use of background orchestration, and the upbeat 'She Walks in So Many Ways'. It's heartening that in an age where a musician's career lasts as long as the drag on a cigarette the Jayhawkes are still making brilliant music, despite this being album number eight (Yes, I caved in and rummaged through their back catalogue).
Mockingbird Time stands well against their previous work, meaning that existing fans will find it a welcome addition to their collection. Indeed, quite from Mockingbird Time being an album that might have 'killed' The Jayhawks, by undermining their past works, it may help them to pick up new fans. This is a very fine listen.
Words: Damien Girling